News from HADASSAH Northern New England



ROCHESTER CALENDAR OF EVENTS & HIGHLIGHTS IN THIS ISSUE



June 10 -
7:30 PM, National Hadassah Live Book Discussion: One Book, One Hadassah

June 17
-
7:30 PM
, Evening Book Group on Zoom

June 23 -
7:00 PM,
Kahoot/Hadassah Trivia on Zoom
July 21 -
Noon, Afternoon Book Group
Highlights in this issue:
--- Hadassah Statement on Racial Justice
--- 65th Annual Medical Center Party Fundraiser- Postponed until October 13

--- Hadassah Rochester 2020

Program Update




--- Double Your Impact - Dollar for Dollar Match

!

---
You Can Purchase Hadassah Cards & Certificates Locally
---
Hadassah Cookbooks Are For Sale

---
Never Again Education Act is Passed!
---
Graduation ECards are Here!
--- Youth Aliyah/Children at Risk

HADASSAH STATEMENT ON RACIAL JUSTICE



An Important Message From Hadassah's Leadership
Please take a moment to read and share this important, timely statement:
Hadassah reaffirms its long-held commitment to racial justice, as we join people across the country in condemning the murders of George Floyd, Ahmaud Arbery and Breonna Taylor.
Hadassah stands in solidarity with communities of color and with all those from Jewish and other communities denouncing instances of police brutality and all aspects of systemic racism. As an organization and as individuals, we must listen, question our own biases, and speak out against racism and bigotry in our country.
Our hearts go out to our members, staff, and community partners of color, and we pledge to continue serving as allies in this fight.
ANNUAL MEDICAL CENTER PARTY FUNDRAISER POSTPONED UNTIL OCTOBER 13




Our 65th Year:
The Hadassah Rochester Annual Medical Center Party Fundraiser
Our 65th Medical Center Party has been postponed until October 13th , to protect the health of our generous participants. At this horrific time, when we are all impacted spiritually, financially and perhaps even physically, the need is great. Requests for our monetary help come daily. Please remember Hadassah and our Hadassah Medical Organization (HMO) – on the forefront of COVID-19 patient care and preventative measures in Israel. Consider supporting Rochester's longest and most successful annual fundraiser with the purchase of a Medical Center Party ticket.
How can I participate?
Buy a Medical Center Party ticket. You can buy a partial ticket – 1/3 for $60, ½ for $90 or an entire ticket for $180. Your name is submitted and you may be a big winner of $$$$$ at our event - $450, $600, $900 or $1200. You'll be invited to attend – but, you don't have to be there to win.
Our Hadassah Rochester volunteers call our regular ticket buyers annually. Let us know if you would like to purchase a ticket. Just contact one of us. Thank you for your interest. It's a Win/Win fundraiser – possibly for you, and for sure – Our Hadassah Hospitals.
We'd love to welcome you on board! Call or email:
Monika Katzel 203 -1200 monikakatzel@gmail.com
Marlene Elkin 271-1871. melkin16@gmail.com


KAHOOT/HADASSAH TRIVIA , JUNE 23, WITH ARIZONA HADASSAH CHAPTER!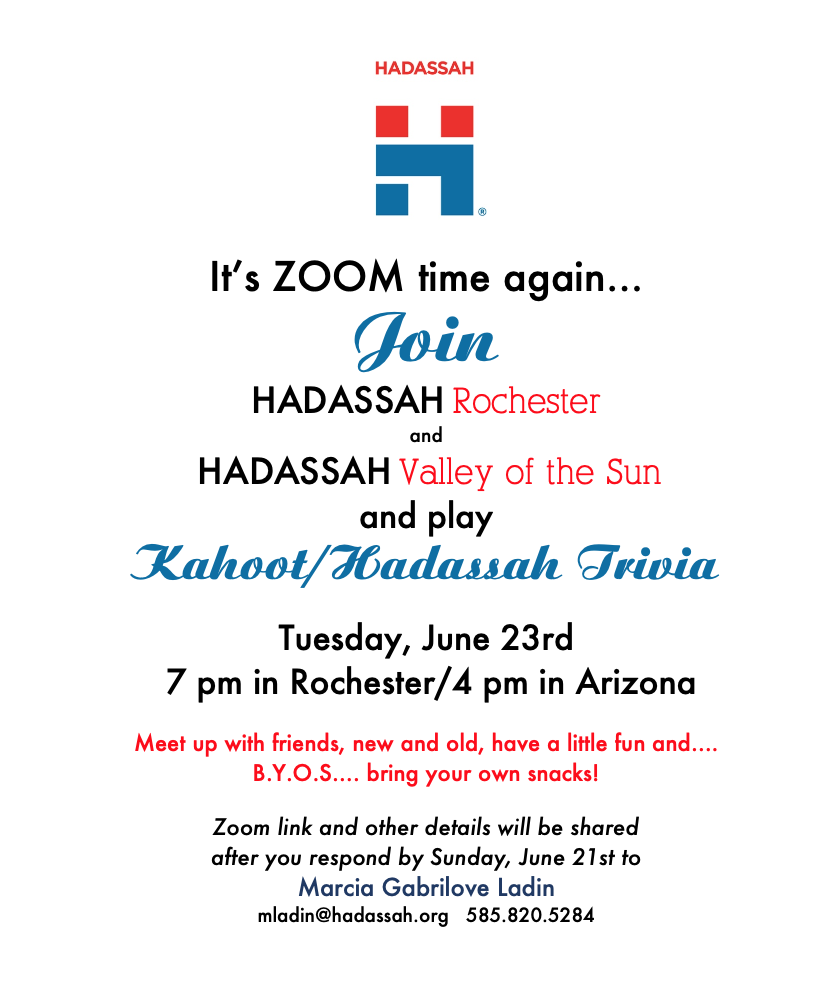 ROCHESTER HADASSAH 2020 PROGRAMS UPDATE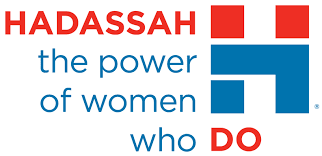 Rochester Hadassah 2020

***Cross-Stitching the Torah, April 19 - Co-sponsored by Rochester Kollel & TBK Sisterhood
(see HADASSAH MAGAZINE June 2019 online) - postponed until the fall

***Medical Center Party - Our Annual Fundraiser - postponed until October 13


***Evening Book Group - continues in Zoom form

Any Questions, please contact:


Fran Studley, studsbride@aol.com, 585-381-6318
Tammi Steinberg, tsteinberg114@gmail.com, 585-248-2295
Monika Katzel, monikakatzel@gmail.com, 585-203-1200
Marcia Gabrilove Ladin, mladin@hadassah.org, 585-820-5284

AFTERNOON BOOK GROUP - JULY 21, NOON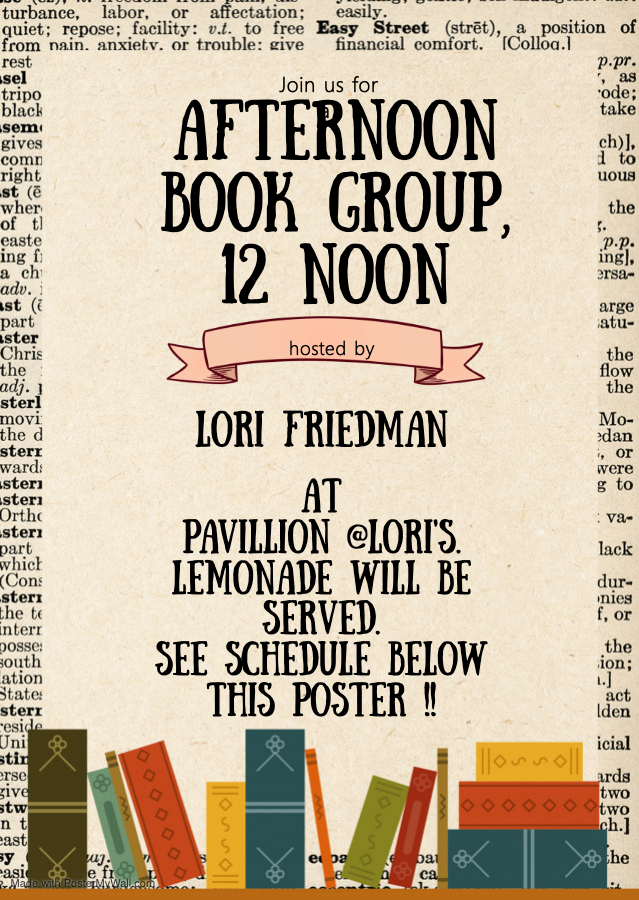 Contact Lori Friedman to verify meetings in the future:
425-0019 or lliberty1118@gmail.com

July 21 - The Librarian of Auschwitz by Antonio Iturbe
August 18 - Mrs. Everything by Jennifer Weiner
September 15 - The Lost Girls of Paris by Pam Jenoff
October 20 - The Book of Separation by Tova Mirvis
November 17 - The Student Conductor by Robert Ford
December 15 - Button Man by Andrew Gross


EVENING BOOK GROUP
ZOOM MEETING WEDNESDAY, JUNE 17, 7:30 PM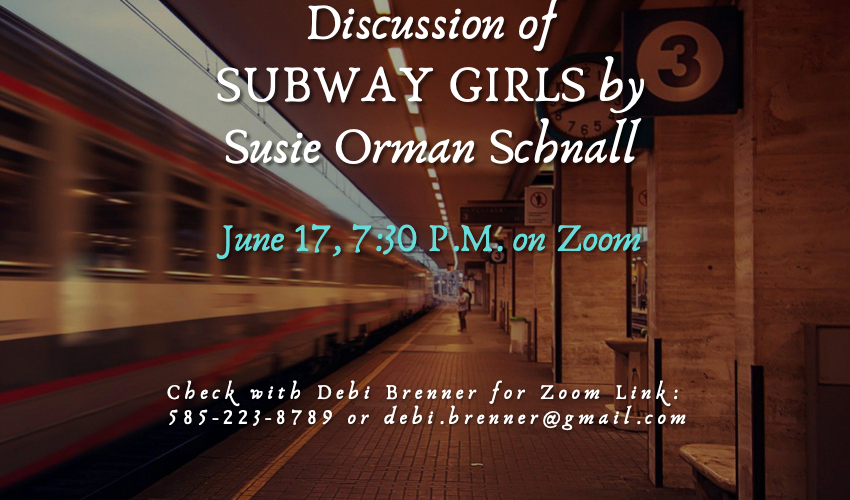 July 28 - The Foundling by Paul Joseph Fronczak @ Marla Miller's, 2 Woodland Circle, Rochester
September 1 - The Girl They Left Behind by Roxanne Veletzos @ Sharon Kovalsky's, 65 Sky Ridge Dr, Rochester
October 15 - Alternate Side by Anna Quindlen @ Nancy Haney's, 77 Great Wood Circle, Fairport
December 14 - Chanukah Pot Luck/Book Exchange/Planning Meeting @ Jan Feldman's, 7 Hasting Circle, Pittsford
January 13 - Gateway to the Moon by Mary Morris @ 2021 Wendy Scull's, 250 Willowcrest, Rochester
NOTE: Meetings are at 7:30 pm except December which is at 6:30 pm
For more information, contact Debi Brenner: debi.brenner@gmail.com or 223-8979
DOUBLE YOUR IMPACT - DOLLAR FOR DOLLAR MATCH!




PLEASE GIVE TODAY!



A private foundation has announced it will match, dollar-for-dollar, every donation
to Hadassah up to $3.75 million!

Each dollar you donate to Hadassah will now go twice as far in helping Hadassah Medical Organization meet the costs of crisis care for patients with COVID-19. A gift of $54 becomes $108, $100 becomes $200, $500 becomes $1,000 and $1,200 becomes $2,400.

Your gift, when DOUBLED, could help Hadassah Hospital Ein Kerem purchase some of the following:

Syringe and Infusion Pumps, which cost $4,436 for a set
Blood Pressure Monitors, which cost $2,500 each
Personal protective equipment (PPE) sets, which cost $1,000 for each set of 30
N95 masks, which cost $500 per box of 250
Electronic stethoscopes, which cost $275
Please consider a donation – nothing is too small or too great. Help Hadassah win the fight against Covid-19.
To donate online, visit www.hadassah.org/covid19.
To send a check, please mail to Hadassah, PO Box 1100, New York, NY 10268-1100, and in the subject line add COVID19/appeal code HMOCOR

TAKE A LOOK AT ROCHESTER HADASSAH'S WEBSITE


- What a terrific Webmistress we have!: Phyllis Hirsch -



http://www.Hadassah.org/rochester
IN MEMORIAM



We note with sorrow the passing of:
Harvey Fine, brother-in-law of Geraldine Fine, Life Member
Dr. David Eisenberg, husband of Anna May Eisenberg, Life Member
Charles Zysman, husband of Judy Zysman, Life Member and brother-in-law of Marla Miller, Life Member
Stephen Sundell, husband of Carolyn Sundell, Life Member and stepfather of Nancy Horn, Life Member

May their memories be for a blessing.


If you would like to make a donation to Hadassah in anyone's memory, please send a check in any amount to:
Toby Berke, 119 Daley Blvd, Rochester, NY 14617
HADASSAH CELEBRATES AS U.S. MAKES IRONCLAD COMMITMENT TO STRENGTHENING HOLOCAUST EDUCATION!

Earlier last month, the Hadassah-backed Never Again Education Act passed both the US House and Senate, and was headed to the White House. On May 28, President Trump signed this bipartisan bill into law. Today, thanks to your support, the United States has made its strongest-ever commitment to Holocaust education.
We cannot overstate the importance of this hard-won victory. Young Americans have less awareness of how the Holocaust happened, to whom and why — and as we all know — antisemitism is on the rise here at home and around the world. The simple truth is, you cannot stand up against hatred if you can't identify it. The Never Again Education Act will help educate millions of Americans to be prepared to act.
Hadassah fought for this legislation for more than two years. Through our Day in the District program, calls and emails to congressional offices, social media posts, letters to the editor and grassroots organizing we changed the course of history — together.
We won this battle. We will celebrate today. But soon we will get back to work because our work is unfinished.
Educators, administrators, and school boards have to know that opportunities that did not exist yesterday are now available. We are confident that Hadassah members in every state and congressional district in America will turn their focus and ensure that educators will be better prepared to teach the universal lessons of the Holocaust accurately and confidently. Our children and future generations deserve nothing less.
Thank you for your passion, your drive, your advocacy efforts, and your support of Hadassah.
With Pride, Passion and Purpose,
Rhoda Smolow
National President
COVID - 19 UPDATES




Updates:
May 28: Special Needs Children and COVID-19: Coping Advice From Hadassah
May 21: Best Practices to Fight COVID-19: Hadassah Shares Promising Strategies
May 20: Make an impact from home. Introducing an important new Hadassah initiative. - Hadassah @Home #9
We hope that you're managing as well as you can during this difficult period. Staying connected and active can be a tremendous source of comfort, especially when we're all spending so much time at home.
May 15: A Personal Hour With Hadassah Hospital Senior Staff During COVID-19
May 13: Israel grapples with new arrangements as coronavirus lockdown lessens - The Jerusalem Post
May 13: OR Protocol: Hadassah Surgeon Shares Expertise in International Forum
May 13: "Listen" to the Voices of Our Dedicated Nurses
May 7: Hadassah Hospital prepares for second wave - Breaking Israel News
May 7: Our Members Respond to COVID-19
May 7: Six Hadassah Nurses to Watch
May 6: Hadassah Geriatrician: Don't Generalize About Old People and COVID-19
May 6: A Salute to Hadassah Hospital's Midwives on International Midwife Day
May 6: Israeli Nurse of the Year Prize Goes to Hadassah NICU Head Nurse
May 6: Saved After December Heart Attack, Teacher Gives Birth at Hadassah
May 6: Worried About Your Heart? New Hadassah Cardiac Hotline Offers Help
May 5: Israeli comic, treated at Hadassah, performs for captive audience - Times of Israel
May 4: "Women are Magical," Says Hadassah Nurse Midwife
May 4: Hadassah's Arabic-Speaking Nurses Seek to Keep People Safe During Ramadan
May 4: Youngsters with Inflamed Heart Muscle—Is This COVID-19 Related?
May 1: As restrictions are lifted, Israeli children go back to school - The Jerusalem Post
May 1: Israeli team finds way to inject drug against COVID-19 infections - The Jerusalem Post
And there is so much more!! Please go to this link: https://www.hadassah.org/coronavirus-update.html#updates
CARDS FOR MANY OCCASIONS & CERTIFICATES- BUY THEM LOCALLY!!



PLEASE CONTACT THESE HADASSAH VOLUNTEERS FOR YOUR CARD & CERTIFICATE NEEDS!!!
JOYCE HEILBRONNER, COORDINATOR: 442,9584, JA85WH@AOL.COM
SUE ANN BAKER: 334-1778
CAROL YUNKER: 385- 3910
EILEEN JACHLES: 383-1753
BARBARA COHEN: 272-7396
YOUTH ALIYAH/CHILDREN AT RISK



Youth Aliyah Update

While most students at Hadassah's three Youth Aliyah villages- Hadassah Neurim, Ramat Hadassah Szold and Meir Shfeyah- returned home to shelter
with their families during the coronavirus pandemic, some had to remain on campus.
At Meir Shfeyah, the 70 Na'ale program participants, students recruited from the former Soviet Union, stayed behind because there was no way for them to join their families overseas. Na'ale students received a cooking class from the village's chef, one of the many activities organized to keep the students safe, busy and happy.
You can help these children by purchasing YOUTH ALIYAH CERTIFICATES, which are good for every occasion.

SMALL CERTIFICATES are $5 and up plus postage. LARGE CERTIFICATES are $15 and up plus postage. Contact Marlene Elkin 271-1871


ROCHESTER HADASSAH COOKBOOK FOR SALE!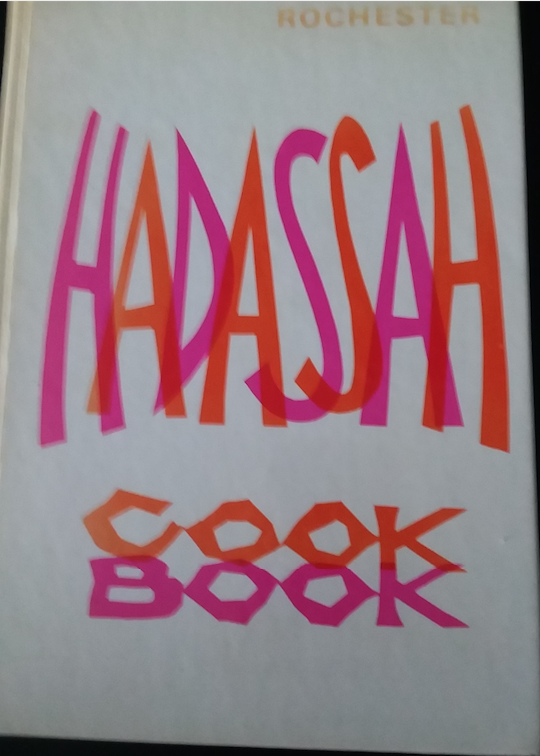 Sour Cream Potato Salad Recipe

Our Rochester Hadassah Cookbook has wonderful recipes for any kind of meal

you want to make. With Summer and the warm weather approaching, there are

many salads and vegetable recipes that are great and any other type of lunch or

dinner you like. Our cookbook makes a great gift for any occasion.
They are $18.00 and $22.00 to ship. Contact Marlene Elkin 271-1871
REMEMBER THE HADASSAH/JCC SHED WHEN YOU ARE CLEANING THIS SPRING!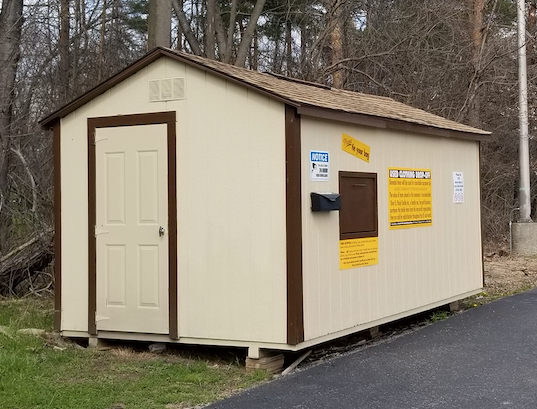 Our JCC/Hadassah shed is fully operational. During this terrible COVID-19 crisis, many of us have more time to clean out closets and basements. Please remember our shed – BUT TEXTILE ITEMS ONLY. Thank you for your help. Your donations provide funds for the JCC and Hadassah and clothing for those in need in our country and throughout the world.
ENTERTAINMENT BOOKS, JNF BLUE BOXES & TREES




Entertainment Books 2020
The Entertainment Books are still for sale with wonderful coupons for restaurants, car washes, dry cleaners, fast food places, golf courses, stores, children's places, car rentals and much more. .The price is $25. Call Marlene Elkin 271-1871
Save Around Books are $20 each; call Debby Shulman 586-6654


Jewish National Fund Blue Boxes

Sue Baker 334-1778 or sueannbaker49@yahoo.com


Jewish National Fund Trees
Merle Markus 586-9436 or mbmarkus@hotmail.com
Barbara Weber smeyers@rochester.rr.com
GRADUATION ECARDS ARE HERE!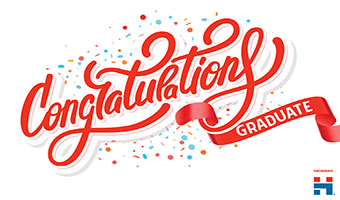 Show your graduates that you are thinking of them during this time of physical social distancing by sending a lovely Hadassah graduation eCard. It's time to celebrate the special graduates in their lives by visiting Hadassah's eCard Marketplace, where for a minimum annual donation of $36 you can send unlimited graduation and all-occasion eCards for an ENTIRE YEAR. All-occasion ecards are always available. Click here to order today!


https://www.hadassah.org/ways-to-give/ecard-marketplace/ecard-main.html
EMAIL ISSUES CONTINUE!



Due to higher security issues with spam, large files, and mass emails, some email addresses are not receiving our Hadassah e-bulletins and e-blasts. Bulletins are sent around the first of each month, e-blasts prior to programs. If you are not receiving our Rochester Hadassah emails, please let us know. What started as just AOL issues may now happen with other servers. And unfortunately we do not always know who is not getting the emails. Please share this info with others (especially AOL users). Write to:

rochester@hadassah.org
NATIONAL HADASSAH'S BOOK DISCUSSION: ONE BOOK, ONE HADASSAH, JUNE 10, 7:30 PM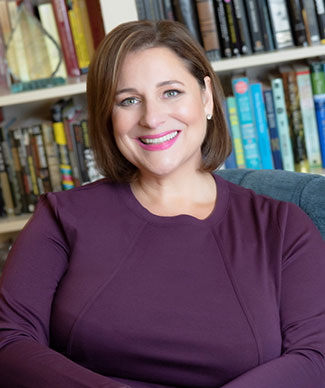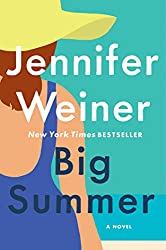 Join us as best-selling author and opinion writer Jennifer Weiner launches the reading initiative One Book, One Hadassah in a live online discussion of her new novel, Big Summer
, one of the most anticipated reads of the season.
An exploration of the lasting impact of female friendship and jealousies as well as an inside look into living in the social media spotlight, Big Summer
blends Weiner's distinct humor and insight with the struggles of self-acceptance. With nods toward Jewish culture and luscious descriptions of food, the novel follows twenty-something plus-sized Instagram influencer Daphne Berg as she navigates romance and mystery over one momentous summer weekend in Cape Cod.
Register here for the June 10 event at 7:30 p.m. Weiner will discuss with Hadassah Magazine Executive Editor Lisa Hostein her book, the importance of female friends, the pros and cons of social media—all from her very Jewish perspective.
And before you join in over Zoom, read our Q&A with Weiner—also the author of Mrs. Everything and Good in Bed—in which she opens up about being a Jewish mom and what it's been like being in lockdown with her two teenagers. Also available are our discussion prompts for Big Summer, which will help guide your book club in meaningful conversations about the novel.
Hadassah Magazine's One Book, One Hadassah reading initiative will bring together book lovers from across the Hadassah community and beyond, presenting enticing reads with a Jewish connection. Look for new picks every other month as well as author interviews, book reviews and discussion guides for local book events. You'll find it all at hadassahmagazine.org/books.
HADASSAH ON CALL : ALS AND WHEN CAN WE REALLY EXPECT A CURE?




About the Episode
After spending 17 seasons with the New York Yankees, slugger Lou Gehrig was forced to stop playing the game he loved. He was suffering from a neuromuscular disease called amyotrophic lateral sclerosis and, on July 4, 1939, he announced his retirement from baseball. "I consider myself the luckiest man on the face of the earth," he told a sold-out crowd at Yankee Stadium. "I might have been given a bad break, but I've got an awful lot to live for." The crowd gave him a standing ovation and, as the New York Times reported the next day, it was "one of the most touching scenes ever witnessed on a ball field."
Gehrig passed away two years later at the age of 37. His battle with ALS brought so much attention to the little-known illness that it's now more commonly referred to as Lou Gehrig's disease.
At Hadassah Hospital in Jerusalem, Dr. Marc Gotkine has been working tirelessly to understand the root causes of the disease. What's more, he and his colleagues are using the latest medical technology — from stem cell research to gene therapy — to discover ways to help slow down the progression of the disease. And in the next decade, he foresees using a combination of drugs to extend the survival rate of patients with ALS.
"I think the approach will be a cocktail approach," Gotkine told us when we interviewed him for this month's episode. "So, similar to HIV and AIDS or in oncology where you find one drug, then you find another drug — it's going to be that every time we find something that can slow down the disease, we'll add it to the cocktail."
Gotkine's research is particularly fruitful and has drawn international attention because of the unique geography of his practice. In Israel, the tight-knit Jewish and Arab communities have both provided him access to ALS patients who are related to someone on their own family tree — like two cousins who married. Known as consanguinity, it offers a wealth of information for doctors studying diseases.
"I have patients from Saudi Arabia who end up coming here," Gotkine explained. Some of his current research involves a family from the Palestinian Authority who have come to Hadassah Hospital. "Actually there were a few members of the family who unfortunately were affected and have passed away from ALS, but they were very forthcoming in helping us with our research." He added: "I think that the opportunities that I've had in Hadassah have been incredible."
In this episode with Dr. Gotkine, you'll hear about:
Further reading: click on these links:
Doctors confirm that ALS patients with positive attitude feel less pain
Gut microbes may affect the course of ALS
Read a transcript of this episode.




Forward to a Friend
Hadassah.org | Privacy Statement | Terms & Conditions |

Unsubscribe
© 2022 Hadassah. The Women's Zionist Organization of America. All Rights Reserved.