News from HADASSAH Greater Southwest
This has been a busy time for us all with the Hadassah office move, Passover, chapter and group meetings in person for many of us, and Israel @ 75 celebrations. I am late getting this issue of our monthly newsletter out, but it is full of news you need to know.
On March 23, our Hadassah office in Houston moved to Room 112 on the lower level of the Evelyn Rubenstein Jewish Community Center which has been expanded and renovated. If you haven't been there lately, I urge you to stop by, but make an appointment with me, Sue Zerlin, Karen Kessler, Barbara Shurberg or Linda Block first. We are still in the process of unpacking boxes and getting organized. Fabulous new art is going up all around the JCC. On the right is one of the pieces by Carol Simon, a member of Houston's Anne Frank Group. As new art goes up at the J, I'll look for art by our Hadassah members to share.
Above are photos of Austin Chapter's booth at Austin's Israel @ 75 celebration. Pictured in the middle are Allison Klein with Emily Shrode, one of our region's Evolve Fellowship Leaders. The eye-catching banner was designed by Devorah Fuchs. Lisa Brill, not pictured, also "manned" the booth that day. Pictured on the right are Austin Chapter President, Julie Van Keer, with Emily Shrode and Esther Schwartz.
Another one of our Evolve Fellowship Leaders, Sandye Fertman of Houston, is working on building a new Hadassah presence in Houston for women 35-50s. The first get-together on April 20 at Southern Sweets Bakery was energizing and there was literally not an empty seat left in the bakery. Sandye is pictured at the bottom left of the second photo below.
Join us for the next Evolve get-together - Rolling for Pink on May 21.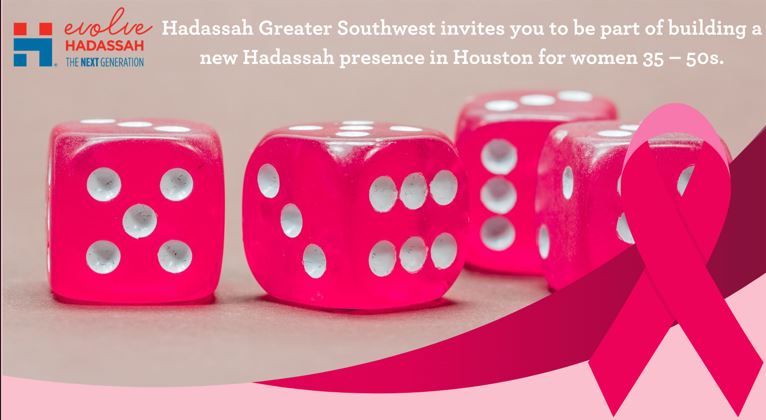 ROLLING FOR PINK
BUNCO FOR BREAST CANCER FUNDRAISER
Sunday, May 21, 2023 • 2:00 - 4:00 PM Central
Held at Evelyn Rubenstein Jewish Community Center of Houston
5601 S. Braeswood Blvd. Houston, TX 77096
Join us for an afternoon of Bunco, wine, sweets, and fun. Wear something pink!
$25 Registration (includes 1 raffle ticket)
Join Hadassah or upgrade from annual to life member and receive 5 raffle tickets
Newcomers Welcome • No prior Bunco experience necessary
Proceeds will Benefit Breast Cancer Research at Hadassah Hospital
Space is limited, register at events.hadassah.org/rollforpink2023

Questions? Please contact Sandye Fertman at sanditaf@gmail.com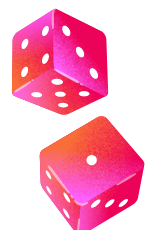 In accordance with IRS tax laws, only the amount of your gift that exceeds the value of goods and services received in consideration of your gift is tax deductible as a charitable contribution for Federal income tax purposes. The amount of the individual ticket to the event that is tax deductible is $5. Charitable deductions are allowed to the extent provided by law, please consult with your personal tax advisor. Hadassah shall have full dominion, control, and discretion over all gifts (and shall be under no legal obligation to transfer any portion of a gift to or for the use or benefit of any other entity or organization).
Here is information about our region's upcoming treasurers' trainings. Now that our chapters and groups are centralized, what exactly is the treasurer's job? See the flyer below and plan to join Roberta Abelman, GSW's Treasurer, and Adi Paliti, Hadassah West Finance Operations Manager, as they cover the basics you need to know. Presidents and interested others are welcome, too.
Hadassah Greater Southwest invites
Chapter/Group Treasurers, Presidents, and AVPs to attend
The Role & Responsibilities of
Chapter/Group Treasurers
An important training facilitated by:
Roberta Abelman, Hadassah Greater Southwest Region Treasurer
Adi Paliti, Hadassah West Finance Operations Manager
Two opportunities to participate:
Questions? Email us at westfinance@hadassah.org
Israel at 75: Successes and Challenges - Thursday, May 18 at 11:30am CT
In celebration of 75 years of Israeli statehood, join us on for a special conversation on Israel's towering achievements—from innovations in agriculture and high tech to the nation's rich arts and culture scene—as well as its ongoing struggles to define itself as the homeland for all Jewish people and its role in the Middle East. Moderated by Hadassah Magazine Executive Editor Lisa Hostein, panelists will include prominent American Israeli writer Yossi Klein Halevi, author of The New York Times best-selling Letters to My Palestinian Neighbor; Isabel Kershner, New York Times correspondent in Jerusalem and author of The Land of Hope and Fear: Israel's Battle for Its Inner Soul, set to be released in May; and activist and influencer Hen Mazzig, author of The Wrong Kind of Jew: A Mizrahi Manifesto, whom Klein Halevi calls "one of the seminal voices of his generation." This event, presented in partnership with Hadassah's Education and Advocacy Division, is free and open to all.
To register for this exciting event, click here!
Next, I am really excited to announce an opportunity to learn about Hadassah's advocacy priorities from our National Chairs. Thanks to GSW's Advocacy Chair, Donna Gershenwald for working with National to make this happen for our region. See the flyer below for this event. Learn how best to make your voices heard.
Join us to Learn About
Hadassah's Advocacy Priorities
Get up to speed on Hadassah's Advocacy Priorities!
Learn from our National Advocacy Chairs how Hadassah's priorities regarding Israel, antisemitism, healthcare, and more impact each of us in the Greater Southwest Region. Specific actions and tools will be provided so that you can get involved (as little or as much as you'd like)!
Register online at
events.hadassah.org/GSWAdvocacy

Thursday, June 1st
7:00pm (CDT) on Zoom
Questions? Contact Donna Gershenwald at donza1@me.com
Love to cruise? Love to play Mah Jongg? Love your Hadassah pals? Join Hadassah Greater Southwest Region for a Carnival cruise from November 2 to November 6. For more information, see the flyer below.
Help us spread the word… Join us July 9-12, 2023 for Hadassah's Pride, Passion and Purpose Symposium; National Business Session; and the National Assembly Meetings at Sheraton Grand Chicago Riverwalk 301 E. North Water Street Chicago, IL 60611. Don't forget to book your hotel rooms NOW!
Hotel Reservation Link: https://book.passkey.com/e/50364429
Rooms are going quickly. The cut-off date for group reservations is June 16 or when the block becomes full, whichever comes first. If you would like to be a delegate representing your chapter at the business meeting on July 10, be sure to let your chapter president know before June 1.
As you may have noticed by now, I often like to end my message with a quote. This one is by Amy Poehler at Harvard's commencement, 2011. "Find a group of people who challenge and inspire you. Spend a lot of time with them, and it will change your life." Thanks for spending time with me.
Fondly,
Sandra Binder Smith
President, Hadassah Greater Southwest Region
Please join me on a Hadassah cruise to Cozumel for a fun-filled time on board Carnival Breeze out of Galveston. Bring a girlfriend, a boyfriend, a spouse or just yourself.
Play mahj, canasta, bridge, shop, watch a show, dance the night away or just relax. Best fun under the sun. In 2019 a similar cruise went out of Galveston; we had around 50 Hadassah members on board. It was amazing! We were hoping to repeat it in 2020, but unfortunately, that didn't happen. While on the cruise, I got to meet other Hadassah members from around the region while having a private cocktail reception.
We are hoping to start a new fun Hadassah rewarding tradition. Come help us do just that. If you have any questions, see below or please contact Elissa Berry at berry.elissa56@gmail.com.
Karen Kessler
GSW Fundraising Chair
What do you get when you add

YOU GET A HADASSAH MAH JONGG CRUISE!
Join Hadassah Greater Southwest Region
and your friends on a Carnival cruise (Breeze)!
Thursday, November 2 - Monday, November 6, 2023
from Galveston with one stop in Cozumel.
Co-Chairs Elissa Berry, Linda Freedman Block, and Karen Kessler
FOR HADASSAH MEMBERS ONLY!
To join Hadassah, please visit https://www.hadassah.org/join.
There will be 4 mini Mah Jongg tournaments while we are at sea
(on Friday and Sunday). $10 entry fee each tournament.
Or play Scrabble, Rummikub, Bridge or whatever floats your boat!
Or just relax, catch up on your reading, write a letter, write a book!
INSIDE ROOM - $480.20 or $485.20 per person double occupancy + $36 donation to Hadassah
OCEAN VIEW ROOM - $565.20 or $575.20 pp double occupancy + $36 donation to Hadassah
BALCONY - $715.20 per person double occupancy + $36 donation to Hadassah
Inquire about prices for single occupancy.
Gratuities are $14.50 per person per day and $16.50 per person per day for suites.
SPACE IS LIMITED - make your reservation ASAP!
Contact Elena Pelsinger at elena@katyvantravel.com to register. 281-492-2007
Send your $36 donation to: Hadassah, PO Box 3209, Bellaire, TX 77402.
If you would like to select a specific cabin, your deposit of $150 is due by May 6th, 2023. Final payment for all cabins is due August 12, 2023. When balance is paid by July 6th, 2023, you may choose your cabin. You may cancel without penalty before August 12th, 2023.
Questions? Contact Elissa Berry about the tournament at berry.elissa56@gmail.com.
HADASSAH GREATER SOUTHWEST REGION MAH JONGG CRUISE
Thursday, November 2 – Monday, November 6, 2023
Carnival Cruise Line – 4 nights sailing on the Carnival BREEZE
November 2nd - ship sails at 3:30 pm from Galveston
November 3rd - at SEA
November 4th - 8:00 am until 5:00 pm - COZUMEL, MEXICO
November 5th - at SEA
November 6th - ship arrives in Galveston approximately 8:00 am
TOTAL Cost for the Entire Cruise:
**Inside Cabin - $480.20 or $485.20 per person double occupancy + $36.00 donation to Hadassah
**Ocean View Cabin - $565.20 or $575.20 per person double occupancy + $36.00 donation to Hadassah
**Balcony - $715.20 per person double occupancy + $36 donation to Hadassah
**If you would like to select a specific cabin, your deposit of $150 per person is due by May 6, 2023. If you do not wish to select a specific cabin, your deposit of $25 per person is also due by May 6, 2023. After May 6th, 2023, please call Elena at 281-492-2007 to inquire about available cabins. Final payment due by August 12th, 2023.
Single, triple and quad occupancy prices are available upon request. SUITES are also available.
CANCELLATION: You can cancel 75 days before sailing without penalty by August 12th, 2023 for full refund because that is when final payment is due.
NAME AS ON PASSPORT or ORIGINAL BIRTH CERTIFICATE and DATE OF BIRTH
_______________________________________________________________

NAME ON CREDIT CARD ADDRESS WHERE CREDIT CARD IS BILLED
___________________________________________________________________
CREDIT CARD NUMBER / EXPIRATION DATE, AND SECURITY CODE
___________________________________________________________________
CABINMATE (for internal purposes) ______________ Total cost $_____________
Payment to be applied now: $____________ PHONE _______________________
EMAIL ADDRESS: ___________________________________________
Return this form to: Elena S. Pelsinger, Katy Van Travel, Inc., 1619 Windsor Park Drive, Houston, TX 77094. Questions: Contact Elena at elena@katyvantravel.com or 281-492-2007 or Cruise Chairs Karen Kessler at karen19kessler@gmail.com, Linda Freedman Block at Lblock@hadassah.org, or Elissa Berry at berry.elissa56@gmail.com.
Send your $36 donation to: Hadassah Mahj Cruise
PO Box 3209 Bellaire, TX 77402.
All participants MUST SIGN and return a Release Agreement which will be sent to you after you register for the cruise to: GSW Hadassah, PO Box 3209 Bellaire, TX 77402 before the start of the cruise.
Participants are responsible for their own transportation to and from Galveston.
Participants are encouraged to purchase travel/trip cancellation insurance simultaneously with their initial deposit. Carnival offers travel insurance on their cruises and Katy Van Travel can also offer Travel Guard Insurance.
Price includes cruise fare, port charges and government taxes. It does not include tips or alcoholic beverages or specialty restaurant fees. Gratuities can be paid in advance or it goes automatically on your shipboard account. Tips are $14.50 per person per day and $16.50 per person per day for suites.
There are beverage packages available or else you will be charged for drinks and wine, etc. on your ship board account which will be paid by credit card you have on file. This is the same for any purchase you make on the ship such as souvenirs, jewelry, etc.
---------------------------------------
Hadassah Disclaimers: "Hadassah acts only as agent for participants in making arrangements for hotels, transportation, touring, restaurants or other services in connection with the itinerary. Hadassah is not responsible for any injury, death, damage, loss, accident, delay, cost or expense of any nature whatsoever arising out of the trip or the travel arrangements. Hadassah strongly suggests that participants purchase travel/trip cancellation insurance. All rights are reserved to cancel or change itineraries or to substitute comparable hotels or services without notice when deemed necessary. The right is reserved to decline to accept or retain any participant should such person's health or general comportment impede the operation of the trip or detrimentally affect the other trip participants. The trip is subject to cancellation due to low enrollment, security or any other reason within Hadassah's sole discretion."
CHARITABLE SOLICITATION DISCLOSURE STATEMENTS HADASSAH, THE WOMEN'S ZIONIST ORGANIZATION OF AMERICA, INC. 40 Wall Street, 8th Floor - New York, NY 10005 (212) 355-7900
Contributions will be used for the support of Hadassah's charitable projects and programs in the U.S. and/or Israel including: medical relief, education and research; education and advocacy programs on issues of concern to women and that of the family; and support of programs for Jewish youth. Financial and other information about Hadassah may be obtained, without cost, by writing the Finance Department at Hadassah's principal place of business at the address indicated above, or by calling the phone number indicated above. In addition, residents of the following states may obtain financial and/or licensing information from their states, as indicated.
OK, LA, TX residents: A copy of Hadassah's latest Financial Report is available by writing to the Hadassah Finance Dept., 40 Wall Street, 8th Floor, New York, New York 10005.
Charitable deductions are allowed to the extent provided by law. Hadassah shall have full dominion, control and discretion over this gift (and shall be under no legal obligation to transfer any portion of a gift to or for the use or benefit of any other entity or organization). All decisions regarding the transfer of funds to or for the benefit of any other entity.
Organization shall be subject to the approval of the Board or other governing body of Hadassah.
Order a Certificate Today!
Contact Hadassah West Certificates Chair, Nanci Patchen
Phone: 714-552-6435 Email: nanci.patchen@gmail.com
If you would like to take part in this exciting Tree of Healing opportunity commemorating the rebirth of Hadassah's iconic Round Building, please contact:
Harriett Zeitlin
Regional Director of Major Gifts, West
hzeitlin@hadassah.org
818-437-0707
Check us out on Facebook by typing Hadassah Greater Southwest in the search bar or clicking here. We hope you will join our Facebook group and invite your friends to join us, too. Thanks to our Facebook manager, Sandye Fertman, for keeping us up to date.
As you know, Hadassah West launched Facebook and Instagram pages last year, and we've been really pleased with the wonderful responses from members in all five regions. Thank you for continuing to promote these social media pages in your meetings and communications. Here are the links in case you need them:
Facebook: facebook.com/HadassahWestGeo
Instagram: hadassahwestgeo or instagram.com/HadassahWestGeo

Please click here to read Hadassah's Charitable Solicitation Disclosure Statements.

Forward to a Friend
Hadassah Greater Southwest
PO Box 3209
Bellaire, TX 77402
Office: 713-661-1022
E: GSW@hadassah.org
Hadassah.org | Privacy Statement | Terms & Conditions |

Unsubscribe
©2023 Hadassah. The Women's Zionist Organization of America. All Rights Reserved.