News from HADASSAH Pacific Northwest
A Message from the President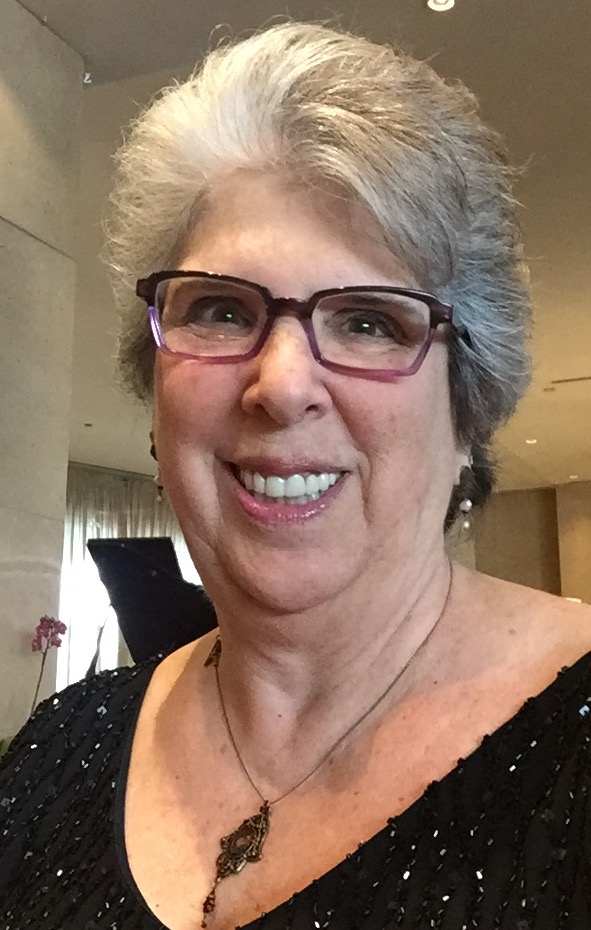 Are you visiting Israel this summer or fall? If so, be sure to visit Hadassah Hospital. And if you do, thank a worker there; hospitals are only as beautiful, clean, and efficient as the staff who maintain them. So perform a random act of kindness; physicians, nurses, medical aids, lab techs, custodians, etc-- they all contribute to making Hadassah Hospitals world class facilities.
And speaking of travel... the absolute best way (I know...my daughter and I have experience) to visit Israel is on a Hadassah Mission. A Mother-Daughter Mission with Marcie Natan, immediate past-President of Hadassah, and her daughter will take you there! It's not too late to join a fabulous Hadassah Mission. They are all listed below, with links to more information.
And speaking of Missions... be sure to read about Diane Sigel's extraordinary experience. Diane just returned from Hadassah's Interfaith Mission lead by Julie Morris, and she has a tale to tell!
And speaking of travel... join us for THE POWER OF OUR DREAMS, Hadassah's National Convention is July 25-28. It will be the most powerful 4 days of your life!

Are you interested in Hadassah's local activities? Be sure to pay attention to what's happening in your area. And, if you are interested in Hadassah's domestic advocacy agenda, read below for some terrific program ideas. All you have to do is (1) let your leaders know you are interested and offer your help or (2) watch our Defining Zionism series from the comfort of your home! Learn! Enjoy! Participate!

A little disclaimer: if you have a hadassah.org account, your e-newsletter is decorated with little anomolies. Ignore. Roll with it. Have fun. Don't tell me about it-- ain't my fault, mahn! We hope your next newsletter is plain and boring.
I hope you and your family have a lovely summer. The beautiful, grand Pacific Northwest offers us nature in abundance. Enjoy!
Warmly,
Peg
Peg Elefant, President
Hadassah Pacific Northwest Region
pelefant@hadassah.org

Convention 2016: July 25-28 in Atlanta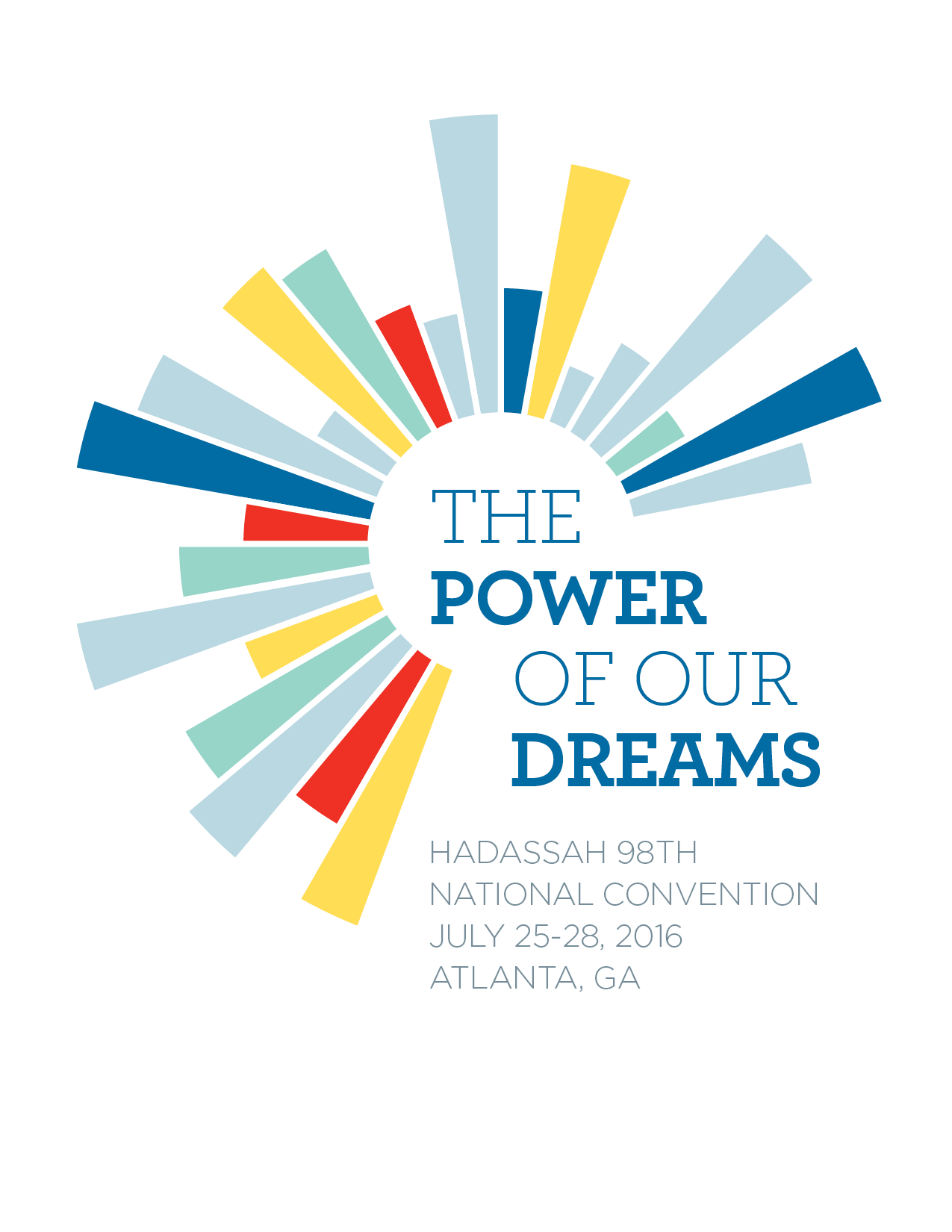 More than 600 people are already signed up for the Hadassah 98th National Convention in Atlanta. Are you? Join us! This is your chance to develop your own leadership skills and have fun, to engage more deeply with our work and with like-minded women. And you'll be inspired by our speakers on new advocacy initiatives on gender equity in medicine, HMO's groundbreaking research and life-saving treatments, women's empowerment, Israeli security innovations, and so much more.
Our provocative Defining Zionism program will be live, with a panel of distinguished guests including Caroline Glick, deputy managing editor of the The Jerusalem Post / JPost.com; and Rob Eshman, The Jewish Journal of Greater Los Angeles publisher & editor-in-chief. See who else is in the lineup! http://bit.ly/1Sn4TM9
Take a look at our exciting program -- including special signature events for young people, our Founders Dinner and Keepers of the Gate reception -- and see for yourself. Then sign up.
Pacific Northwest Region subvention application: extended deadline for 1st time attendees: July 1, 2016 to
Michelle Goldberg: mgoldberg@hadassah.org or mail to Michelle Goldberg, 1417 N 200th St Apt A2,Shoreline,WA 98133-3223
Acess the Pacific Northwest Region subvention application. Up to $450 from the Region) for 1st time attendees.
(note: Check with your unit President for a possible chapter subvention)

Hadassah Contributes to Medical History!

A new treatment, utilizing a stem cell infusion protocal performed at Hadassah Medical Organization (HMO) and developed by the U.S./Israeli biotech company BrainStorm Cell therapeutics, was show to significantly slow the progression of amyotrophic lateral sclerosis (ALS), also know as Lou Gehrig's disease in clinical trials. Prof. Dimitrios Karussis, a senior neurologist at HMO says, "The results are very encouraging. In the clinical trial of intrathecal infusion of stem cells, there were no major adverse effects, and close to 90 percent of patients showed slowing in the progression of disease." A Phase 2, double blind study is currently running at Mayo Clinic, Massachusetts General Hospital and University of Massachusetts Memorial Medical Center using a treatment protocal identical to the HMO trial.
Dr. Karussis adds, "I am optimistic that within the foreseeable future we may provide a treatment to ALS patients than can slow down or stop the progression...While this is not a cure, it is the first step in a long process in that direction.
Hadassah President Ellen Hershkin adds: "For over 75 years, Hadassah's hospitals have been in the vanguard of innovative medical discoveries, research and treatements. Under Prof. Karussis' direction HMO is eager to continue its groundbreaking work to combat ALS and similar neurodegenerative diseases, such as multiple sclerosis."
Contact Hadassah to learn about ways that you can help support the future of lifesaving research.
PACIFIC NORTHWEST REGION SPONSORS ANNUAL GIVING LUNCHEON
Nothing could have been nicer than a sunny day at the Seattle Yacht Club for the PNW Region Annual Giving Luncheon on June 5. We had the pleasure of hearing from Diane Sigel, Past Region President, who had literally just returned from the Hadassah Interfaith Mission to Israel led by our own Julie Morris. She shared a story about a young girl who was treated by the doctors at Hadassah Medical Organization. Mission attendees were treated to a "thank you" meal hosted by her family at their home where she is recovering.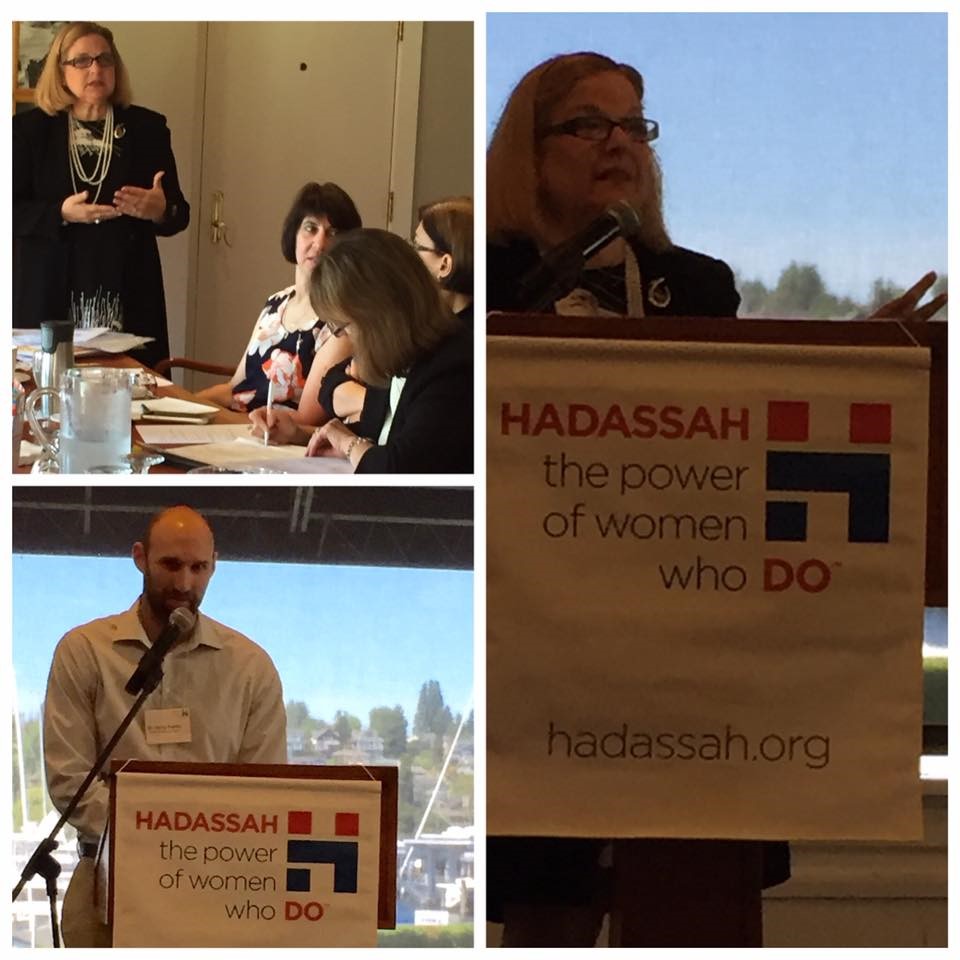 Dr. Harry Flaster, a surgeon at Harborview Medical Center, shared that he will be leaving shortly to work at Hadassah Ein Kerem on a special surgical research project. This is not his first experience with Hadassah. During his medical studies, he had the opportunity to do a semester at Hadassah Mt. Scopus. We wish Harry safe travels and a wonderful experience.
We were fortunate to have Carol Ann Schwartz, Hadasash National Board and Chair of this summer's Convention in Atlanta. Carol Ann shared some of the breakthrough research that Hadassah is working on. She announced that Hadassah had just opened a lab to work on the Zika virus. She shared how Hadassah members not only "speak up, but speak out" as we advocate for pay equality, gender equality in medical research. Carol Ann told us about partnerships between Hadassah and Cincinnati Children's Hospital.
Peg Elefant, Region President, welcomed Carolee Kawer, Portland Chapter for joining Chai Society and Carol Meyer, Seattle Chapter for joining Keepers of the Gate. Congratulations and Todah Rabah!
Photo: top left--Carol Ann Schwartz, Nancy Lichter, bottom left--Dr. Harry Flaster, right: Carol Ann Schwartz
Portland Hadassah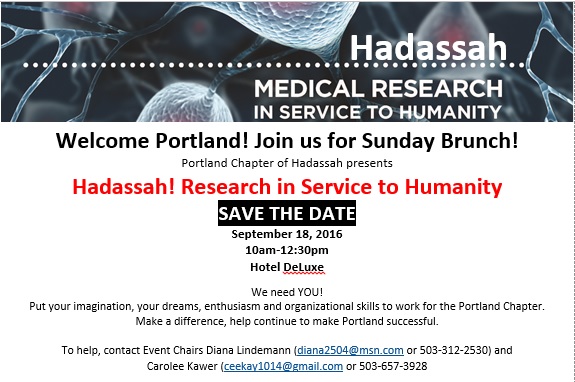 Tacoma Hadassah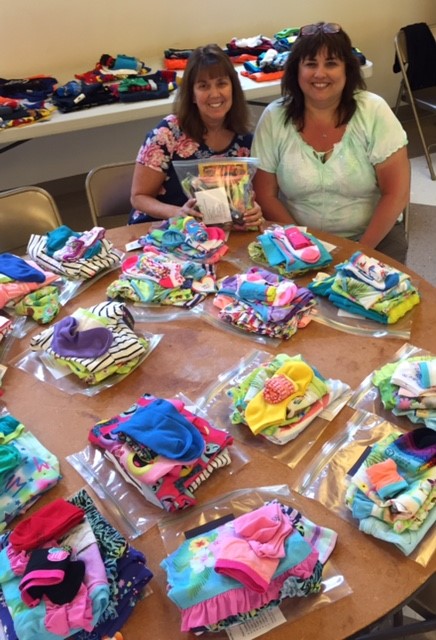 Tacoma Chapter held a wonderful event this April.We met two dynamic women, Betsy Rodgers from Pierce County DSHS foster care division and Ericka Thompson from Fostering Together.They explained the difficulties facing children as they navigate through the foster care system.
Betsy identified some urgent needs that we could assist them with.There are many times that children, just entering the foster care system, wait hours and sometimes days in social care offices prior to placement. They do not have snacks or even a change of clothing.
Tacoma Hadassah assembled 55 comfort care bags containing clothing, toiletry items and small games.There were also additional clothing items and snacks that were sent with these women to assist children in our foster systems.
We have had some terrific results:
~We have 2 new members because of the event!
~We have 12 reengaged members.
~6 members participated through donating and communicating excitement regarding the event who could not attended the event.
~Additionally, the notes of encouragement our members wrote to children had the Hadassah letterhead. These notes will go to 55 foster families who will have now heard of Hadassah and will know a little more about us and what we do.
Linda Brown, President
Tacoma Hadassah
above picture: Lisa Sobel and Linda Brown show off Tacoma Hadassah's
care packages for foster children
Seattle Hadassah
SAVE THE DATES!
On Tuesday evening, September 13, at Harley Marine Services, Inc., 100 Hadassah supporters will gather to experience the very best of Israeli wines and enjoy an elegant sunset dinner. Stories about the global impact of Hadassah's reach will infuse the evening.

Also...


HADASSAH MISSIONS
from Diane Sigel, who just returned from Hadassah's Interfaith Mission led by Julie Morris...
"When 18 year old Sara al Katzroy started her routine jog in Jericho, she never thought she would end up in the intensive care unit at Hadassah Hospital, Ein Kerem. And the 21 participants, including my husband and me, in the recent Hadassah Interfaith Mission led by Julie Morris never dreamed they would play a role in her story.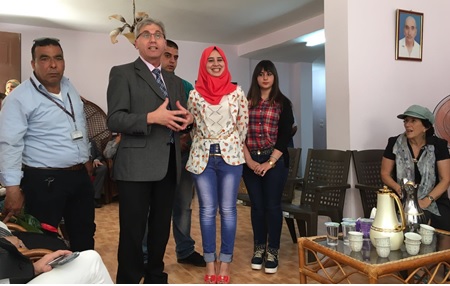 (photo caption:)Our guide in Bethlehem, Prof. Rigaat Safadi, Sara al Katzroy, Sar's sister, Barbara Sofer (seated)
Sara became dehydrated and collapsed about 2 ½ miles into her jog. She was treated for severe heat stroke in Jericho but did not respond to the treatment. Her parents were told to say their goodbyes.Instead, she was brought by ambulance to Hadassah Hospital where she was diagnosed with multiple organ failure. There was hope that her liver would begin functioning again but preparations for a transplant were made as part of the treatment plan.Several years ago, Hadassah received a donation of a Molecular Absorbent Recirculation System, also known as MARS. MARs removes toxins and serves as an artificial liver support system.Thanks to MARS and Hadassah's medical team, Sara is recovering well and is back with her family in Bethlehem after spending three weeks in the intensive care unit.
Sara's family wanted to express their thanks to Hadassah and contacted Barbara Sofer to help make this possible.The stars aligned perfectly as our group was already planning on spending a day in Bethlehem. We were told that we were invited for lunch at the home of a grateful family.Prof. Rifaat Safadi, head of the Liver Unit and a key member of the medical team that saved Sara, was to join us.Well, calling our experience "lunch" is like calling the Taj Mahal a mere building. When our small bus arrived at the family home, we were greeted by the entire neighborhood, cell phone cameras clicking, hugs exchanged, Arabic, Hebrew and English words flying.We were ushered into the family room where we heard Sara's story and witnessed the loving connection between former patient, doctor and family.
We then sat at a 15 feet long table set for the banquet that Sara's grandmother had been preparing for 4 days.Multiple generations watched as we ate until we could eat no more, hardly putting a dent in the mounds of food.Just when we thought we would burst, we were invited back to the family room for Arab coffee, sweets, fruit and more expressions of thanks from the family.Regrettably, the time came for us to leave but not before each of us was given another hug, a fresh flower and a gift to remind us of our magical afternoon in Bethlehem.
I have been fortunate to have been to our hospitals and spoken with our doctors and patients many times over the past 20+ years.Each time, my heart is filled with pride and gratitude that I am able to play a small role in the miracles that take place there every day.Few of us will ever be fortunate enough to have the experience the mission participants had in Bethlehem but all of us can ensure the Bridge to Peace remains open.
I encourage all of you to make or increase your annual commitment to Hadassah and to sign up for a Hadassah Mission. Both actions will be good for your heart."
Start packing. Hadassah missions offer unforgettable journeys through Israel, whether you're a first-timer or an experienced Israel traveler. Visit Israel soon: it's fun, surprising, impressive, inspiring and spiritual. You will come home refreshed and renewed!
June 21 - July 3, 2016


Hadassah Mothers & Daughters Mission to Israel




Led by Marcie Natan & Heidi Natan


More details & book online ›

August 30 - September 11, 2016
Indulge Your Senses on a Hadassah Mission: Experience Israeli Fashion,
Food, Wine & Design in Israel
Led by Liz Alpert & Anastasia Torres-Gil
More details & book online ›

October 27 - November 6, 2016


Hadassah Nassau Mission to Israel




Led by Tracey Drayer & Cheryl Sperber


More details & book online ›
November 9 - 20, 2016


From Ancient to Awesome Hadassah Mission: Israel's Past, Present & Future


Led by Laurie Weitz & Aileen Bormel


More details & book online ›
December 22, 2016 - January 1, 2017


Hadassah: A Multi-Generational Experience


Led by Miriam Aron


More details & book online ›

CONTACT US!

(800) 237-1517
Hadassah presents PrAZE (Programs, Advocacy, Zionism, Education
Our top knotch PrAZE programs encourage discussion and interaction! You can conduct a Hadassah's advocacy programsin your unit! Questions? Contact Hadassah Advocacy at advocacy@hadassah.org or 212-303-8136.
Defining Zionism in Easy-to-Watch Segments:
Check out Our Latest Defining Zionism Speaker!
BRING THE CONVERSATION TO YOUR COMMUNITY! Chloé Valdary is a Tikvah Fellow at the Wall Street Journal Conducting research on Israeli advocacy in America today. She talks passionately about how we can make Zionism resonate for millennials today by showing how it adds value to their lives—namely through pop culture. Find everything you need on myHadassah in the Zionist/Israel Education dropdown! myhadassah > resource-files > Zionist/Israel Education > Defining Zionism
This program is available for your members on the website at hadassah.org/definingzionism
The subject of Zionism is too important to rush through. Now you can enjoy Defining Zionism at your convenience. Speakers are filmed in several short (3 to 5 minute) segments. Each segment is a different topic. This means you can "binge watch" a speaker's videos all at once, or a couple at a time.Watch now: http://www.hadassah.org/connecting-to-israel/defining-zionism/chloe-valdary.html
Gender Equity in Medical Research:
A multitude of diseases are often misdiagnosed, or overlooked entirely, in women because medical research, diagnostic tools, and treatments are frequently based on male physiology. Even animal and cellular research subjects are overwhelmingly more male than female.
Human Trafficking:
Every day, men, women and children are forced, defrauded, or coerced into labor or sexual exploitation, with 20.9 million victims of human trafficking globally. Trafficking and its related crimes not only harms the victims involved; they also undermine the social, political and economic fabric of the nations where they occur by devaluing individuals, demeaning women, and increasing violence and crime.

Forward to a Friend
PACIFIC NORTHWEST
E: pelefant@hadassah.org
Hadassah.org | Privacy Statement | Terms & Conditions |

Unsubscribe
©2020 Hadassah. The Women's Zionist Organization of America. All Rights Reserved.
Donation Questions
(800) 928-0685
Membership Questions
(800) 664-5646
Israel Travel
(800) 237-1517
Contact Us
40 Wall Street
New York, NY 10005