News from HADASSAH Pacific Northwest
Dear Hadassah Friends,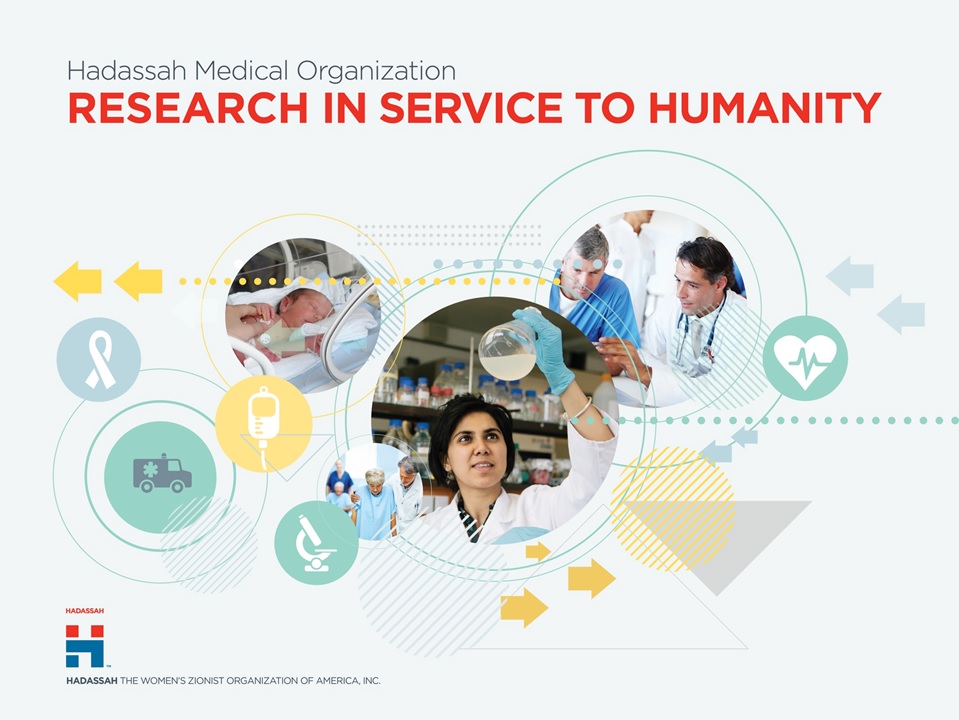 Welcome to Hadassah's premier focus,Research in Service to Humanity.
The heart of a major medical center is research. We want to connect you to the latest research that is being conducted at Hadassah Medical Organization (HMO). There is exciting work being done in the area of neurological diseases – those affecting the brain, nerves, and spine – as well as diabetes, melanoma, and heart disease.
Hadassah has always been an organization of visionaries. Over 100 years ago, Hadassah was the first to bring modern medicine to the Middle East. We established Israel's first teaching hospital and its first nursing, medical, and dental schools. Doctors at HMO were first in Israel to perform double bypass surgery, computerized robotic surgery, and successful bone marrow, heart, liver, and lung transplants.Click HERE to read about ALS breaking news.

Today, Hadassah's two hospitals in Jerusalem, one in Ein Kerem and one on Mt. Scopus, serve Israel's largest population center and are known throughout Israel and the region for their pioneering research and health care expertise.
None of this is possible without you -- Hadassah's 330,000 members, associates, and supporters nationwide.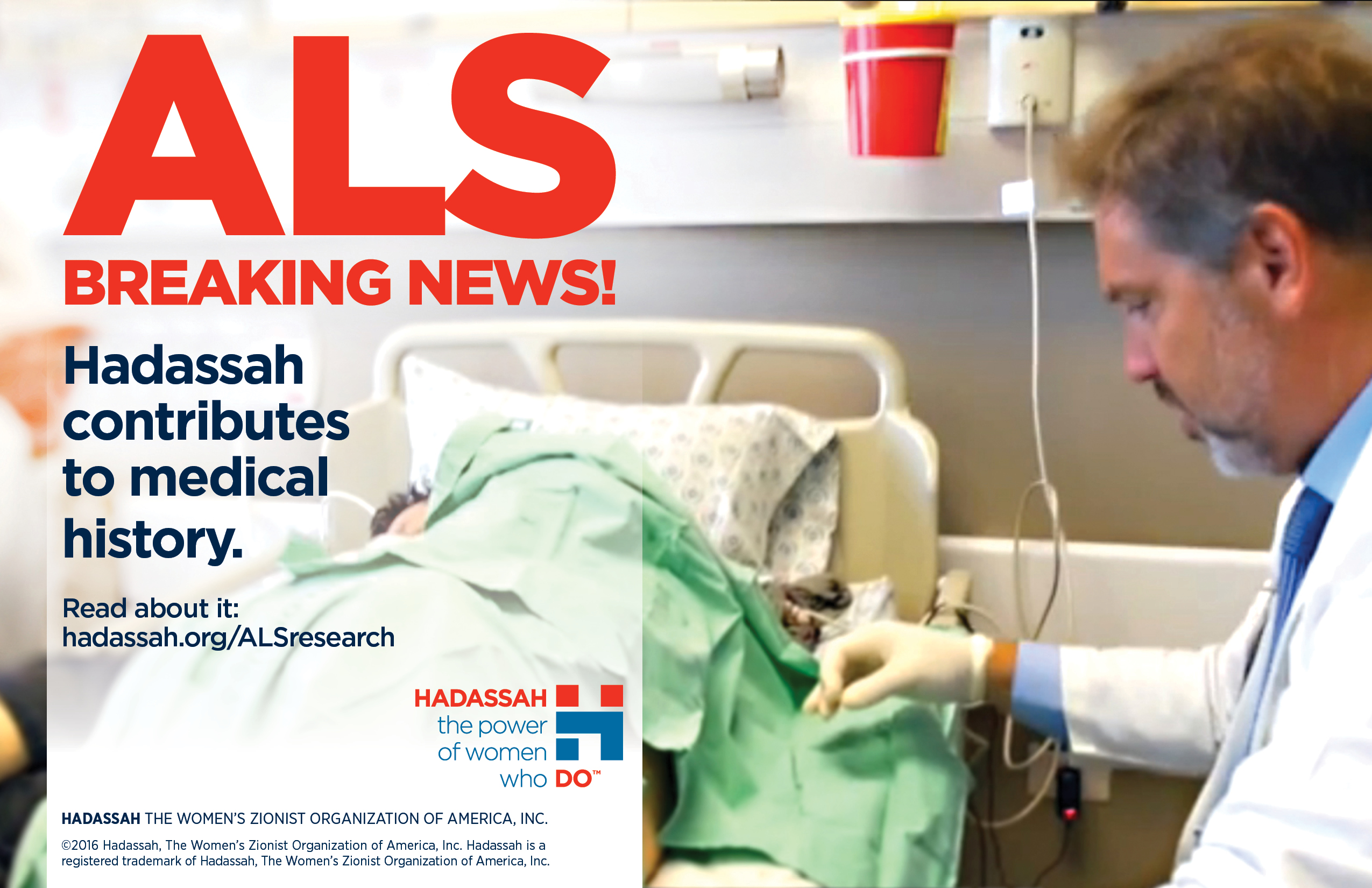 Hadassah, the Women's Zionist Organization proudly supports Research in Service to Humanity, which reflects our #1 priority, as voted upon by the Hadassah National Assembly: Hadassah Medical Organization.
To begin our Pacific Northwest Region support for Research in Service to Humanity, we are sponsoring an Annual Giving workshop to help you learn about and encourage Annual Giving in your area. Join your Hadassah friends for a meaningful morning of learning, friendship, and, of course, noshes! A partial travel subsidy is available. For more information contact Nancy Lichter, Annual Giving Chair for the Pacific Northwest Region.
Click HERE to register for the Annual Giving Workshop
SAVE THE DATE! May 22: Know Your Worth; Own Your Future

Know Your Worth: Own Your Future, an engaging one day workshop, will help you explore how to ensure long-term economic security, including managing income streams; honing your financial and negotiating skills; investing and growing your money; all in the context of the Jewish values that underlie these decisions.
LGBTQ Rights, Israel & Zionsim
Defining Zionism in the 21st Century with Rabbi Sharon Kleinbaum
Five easy-to-watch video segments
Watch all five at one sitting, or watch them one at a time. And, don't forget to share with friends and family!
Meet Rabbi Sharon Kleinbaum
The spiritual leader of a synagogue that celebrates diversity, Rabbi Sharon Kleinbaum, is straight-talking, controversial, inspiring and passionate about Israel. Hear what she has to say about being gay in Israel; challenges within the legal system; and why she is a Zionist. Rabbi Kleinbaum was named one of the country's top 50 Jewish leaders by the Forward and the New York Jewish Week, and one of Newsweek's most influential rabbis
Convention 2016 in Atlanta!



There's nothing in the world like a Hadassah convention! Meaningful learning, inspiration, great speakers, and our famous Hadassah Sisterhood!
Partial subsidies available from the Pacific Northwest Region for 1st time attendees! Contact our Region Convention Chair, Michelle Goldberg: michelle.goldberg@hadassah.org
Partial subsidies might be available from your chapter. Contact your chapter President. Or, Peg Elefant: pelefant@hadassah.org
Join us this summer in Atlanta!

B'hatzlacha; may we go from strength to strength!
Warmly,
Peg
Peg Elefant, President
Hadassah Pacific Northwest Region
t: 541-740-3827
541-740-3827
e: pelefant@hadassah.org

Pacific Northwest Region Board

Peg Elefant, President pelefant@hadassah.org
Linda Brown, Treasurer pnw.treasurer@gmail.com
Michelle Goldberg, Fundraising VP, Convention Chair: michelle.goldberg@Hadassah.org
Nancy Lichter, Annual Giving Chair n.lichter@comcast.net
Jacquie Bayley, Immediate Past-President jbayley@hadassah.org
Sandra Korb, Secretary ldkorb@aol.com
Diane Sigel, Member-at-Large dsigel@Hadassah.org
Betty Fellerman, Tacoma Chapter Representative bettyfell@Comcast.net
Susan Adler, Seattle Chapter President sadler@Hadassah.org
Area Resource Chair: Sima Schuster schuster@hadassah.org

Forward to a Friend
PACIFIC NORTHWEST
E: pnwregion@hadassah.org.
Hadassah.org | Privacy Statement | Terms & Conditions |

Unsubscribe
©2020 Hadassah. The Women's Zionist Organization of America. All Rights Reserved.
Donation Questions
(800) 928-0685
Membership Questions
(800) 664-5646
Israel Travel
(800) 237-1517
Contact Us
40 Wall Street
New York, NY 10005