ROCHESTER CALENDAR OF EVENTS & HIGHLIGHTS IN THIS ISSUE



August 6 -
6:00 PM, American Zionist Women of Color Panel
August 18 - Cancelled
,
Afternoon Book Group

August 20
-
7:30 PM
, One Book, One Hadassah Book Discussion
September 1 -
7:30 PM,
Evening Book Group

September 13 -
1:00 PM, Book and Author Join Zoom Program with Hadassah Lexington

Highlights in this issue:
---
Hadassah Mourns the Loss of Congressman John Lewis
--- 65th Annual Medical Center Party Fundraiser Update

--- Hadassah Rochester 2020
Program Update
--- The Branch, Season 2, Episode 1: The Corona Chronicles

---
Remember the Hadassah/JCC Shed for your Donations!
---
You Can Purchase Hadassah Cards & Certificates Locally
---
Hadassah Cookbooks Are For Sale

--- Youth Aliyah/Children at Risk

HADASSAH MOURNS THE LOSS OF CONGRESSMAN JOHN LEWIS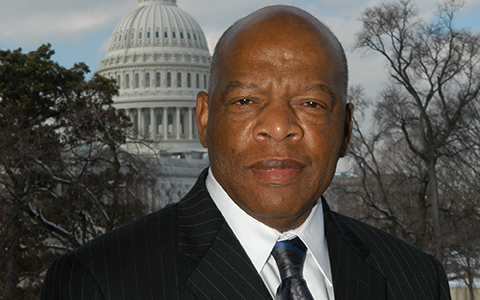 July 20, 2020 - NEW YORK – Hadassah, the Women's Zionist Organization of America, mourns the loss of Congressman John Lewis – an icon of the

struggle for civil rights and equality and a leader in uniting Black and Jewish communities. Lewis' life was and will remain an example of an extraordinary
commitment to tikkun olam, or repairing the world.
"Congressman Lewis was a lifelong leader who stood with great courage for all people yearning for equality in the face of discrimination.
He used his towering voice to help knock down barriers, unite communities, and build a more peaceful and tolerant world than the one he was born into.
His example will live on in the actions of others, including members of the Atlanta Black-Jewish Coalition and the Congressional Caucus on
Black-Jewish relations – both of which he helped establish – and inspire generations to come," said Hadassah National President Rhoda Smolow.
"Having the privilege of knowing Congressman Lewis personally for over 30 years," said Hadassah CEO/Executive Director Janice Weinman,
"it's undoubtable that the world has lost a true leader and the conscience of our country. Congressman Lewis brought courage, boldness, and
compassion to the issues we face regarding human dignity. May his memory be a blessing and inspiration to all who loved and admired him."
ANNUAL MEDICAL CENTER PARTY FUNDRAISER POSTPONED UNTIL OCTOBER 13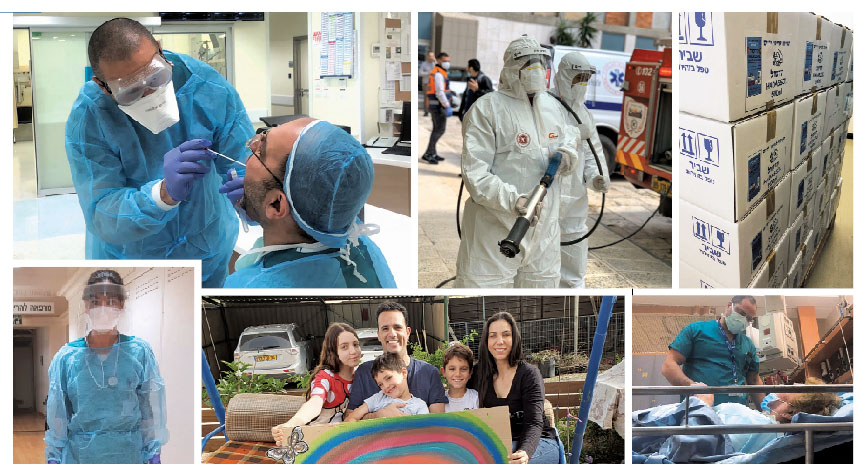 Our 65th Year:
The Hadassah Rochester Annual Medical Center Party Fundraiser
Our 65th Medical Center Party has been postponed until October 13th , to protect the health of our generous participants. At this horrific time, when we
are all impacted spiritually, financially and perhaps even physically, the need is great. Requests for our monetary help come daily. Please remember Hadassah and our Hadassah Medical Organization (HMO) – on the forefront of COVID-19 patient care and preventative measures in Israel. Consider supporting Rochester's longest and
most successful annual fundraiser with the purchase of a Medical Center Party ticket.
How can I participate?
Buy a Medical Center Party ticket. You can buy a partial ticket – 1/3 for $60, ½ for $90 or an entire ticket for $180. Your name is submitted and you may be a
big winner of $$$$$ at our event - $450, $600, $900 or $1200. You'll be invited to attend – but, you don't have to be there to win.
Our Hadassah Rochester volunteers call our regular ticket buyers annually. Let us know if you would like to purchase a ticket. Just contact one of us.
Thank you for your interest. It's a Win/Win fundraiser – possibly for you, and for sure – Our Hadassah Hospitals.
We'd love to welcome you on board! Call or email:
Monika Katzel 203 -1200 monikakatzel@gmail.com
Marlene Elkin 271-1871. melkin16@gmail.com


ROCHESTER HADASSAH 2020 PROGRAMS UPDATE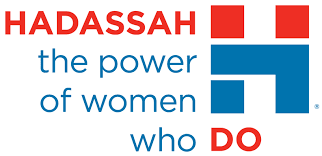 Rochester Hadassah 2020

***Cross-Stitching the Torah, April 19 - Co-sponsored by Rochester Kollel & TBK Sisterhood
(see HADASSAH MAGAZINE June 2019 online) - postponed until the fall

***Medical Center Party - Our Annual Fundraiser - postponed until October 13


***Evening Book Group - continues in Zoom form

Any Questions, please contact:


Fran Studley, studsbride@aol.com, 585-381-6318
Tammi Steinberg, tsteinberg114@gmail.com, 585-248-2295
Monika Katzel, monikakatzel@gmail.com, 585-203-1200
Marcia Gabrilove Ladin, mladin@hadassah.org, 585-820-5284

AMERICAN ZIONIST WOMEN OF COLOR PANEL - HOSTED BY HADASSAH- AN ONLINE EVENT



Explore the challenges of multiple identities and join our virtual event on Thursday August 6th at 6:00pm ET. Panelists will include Rabbi Sandra Lawson,
the first gay, black, female Rabbi who is taking Snapchat by storm, Tema Smith, Director of Professional Development at 18 Doors, Michele Norris,
a chapter president from Hadassah Florida featured in the Jewish Press of Pinellas County for her work on racial justice, and Sabrina Kerbel, a leader
from Hadassah Southern California. Encourage your members to register in advance for this event. Rabbi Lawson's Zoom Shabbat service drew
thousands of attendees, so this is an event not to be missed!
Register here: https://zoom.us/webinar/register/WN_WvL1spzPTDm7JpnZPE_Etg

AFTERNOON BOOK GROUP - AUGUST - CANCELLED!!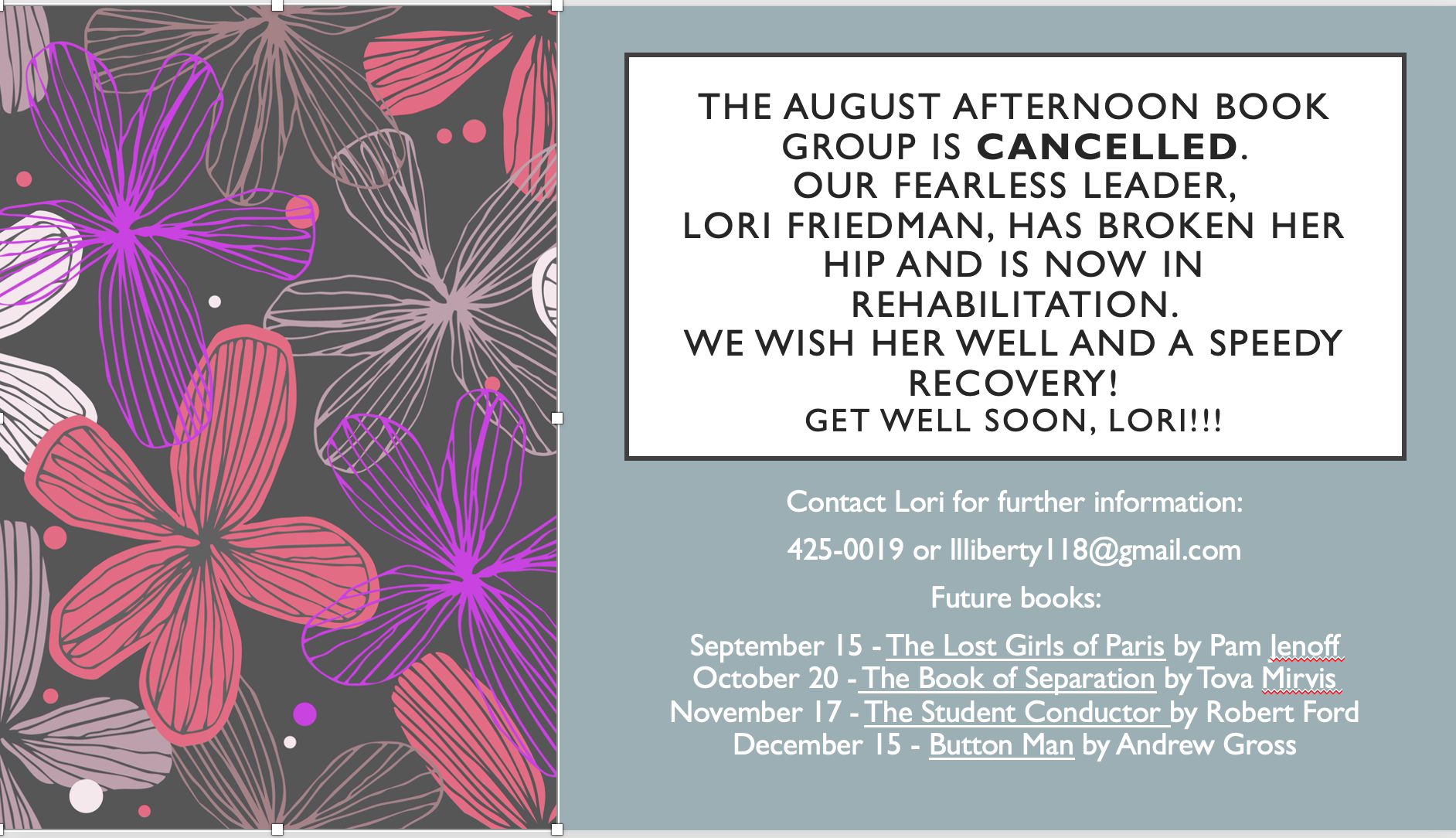 ONE BOOK, ONE HADASSSAH - AUGUST 20 7:00 PM



One Book, One Hadassah: Next Up, 'The Book of V.'
Thursday, August 20, 2020, 7:00 PM EST
Join award-winning author Anna Solomon in conversation with Hadassah Magazine's Lisa Hostein for the second One Book, One Hadassah live event.
Lauded as one of the most-anticipated books of 2020 and a Good Morning America book club pick, Solomon's new novel The Book of V. interweaves the
narratives of three women from different eras: Lily, a contemporary Jewish stay-at-home mom; Vee, a 1970s senator's wife; and Esther, Queen of Persia.
An investigation of motherhood, desire, power and femininity through the experiences of these women, The Book of V. is a pointed and darkly sexual
exploration of women and their choices. Inspired by Michael Cunningham's The Hours, Solomon uses her distinct take on Jewish history and rebellious,
complex women—honed in her two previous novels The Little Bride and Leaving Lucy Pear—to deconstruct female archetypes.
Register here for the August 20 event at 7:00 p.m. Solomon will discuss her book, reimagining biblical figures, Jewish motherhood and much more.
To prepare for the event, be sure to read our review of The Book of V., then read the book itself and schedule a follow-up book club meeting with your local
group using our discussion prompts for the novel.
Hadassah Magazine's One Book, One Hadassah national book club brings together book lovers from across the Hadassah community and beyond,
presenting enticing reads with a Jewish connection. Look for new picks every other month as well as author interviews, book reviews and discussion
guides for local book events. You'll find it all at hadassahmagazine.org/books.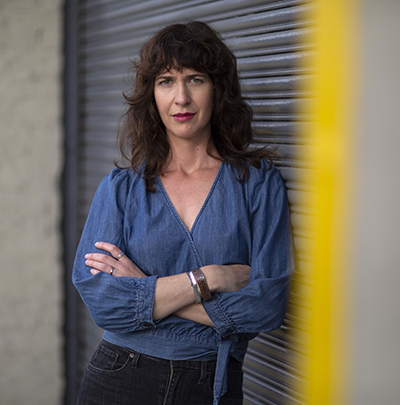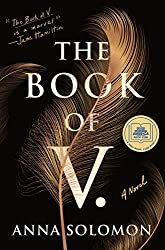 EVENING BOOK GROUP
TUESDAY SEPTEMBER 1, 7:30 PM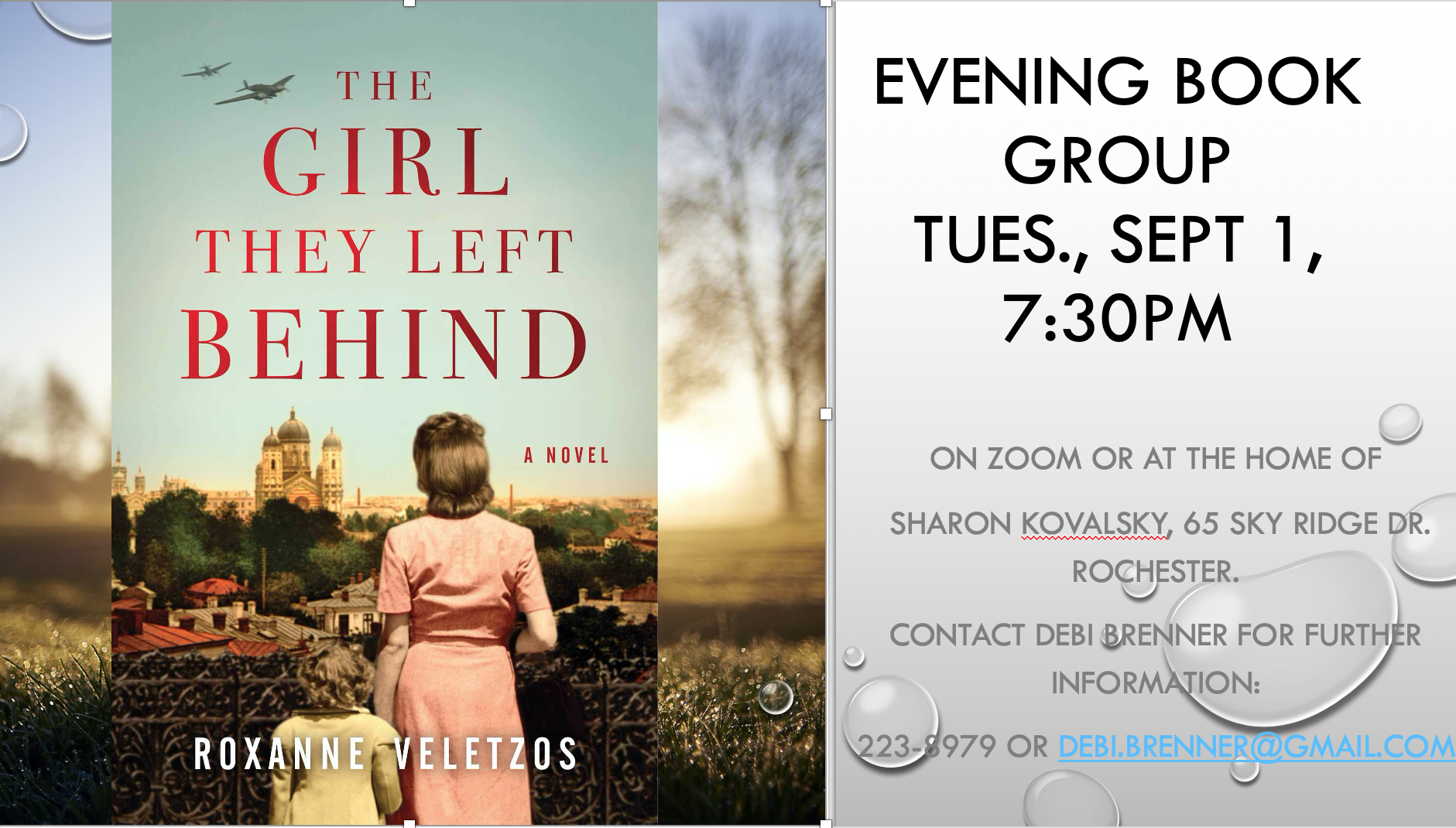 Future books and dates:

October 15 - Alternate Side by Anna Quindlen @ Nancy Haney's, 77 Great Wood Circle, Fairport
December 14 - Chanukah Pot Luck/Book Exchange/Planning Meeting @ Jan Feldman's, 7 Hasting Circle, Pittsford
January 13 - Gateway to the Moon by Mary Morris @ Wendy Scull's, 250 Willowcrest, Rochester
NOTE: Meetings are at 7:30 pm except December which is at 6:30 pm
For more information, contact Debi Brenner: debi.brenner@gmail.com or 223-8979
BOOK AND AUTHOR JOINT ZOOM PROGRAM WITH HADASSAH LEXINGTON -
SEPTEMBER 13, 1:00 PM




TAKE A LOOK AT ROCHESTER HADASSAH'S WEBSITE



Here is the url: http://www.Hadassah.org/rochester
Phyllis Hirsch has been our wonderful web mistress for many years. She also has many other talents, one of
which is developing cartoons from Clip Art. Here are two she has generously shared with us!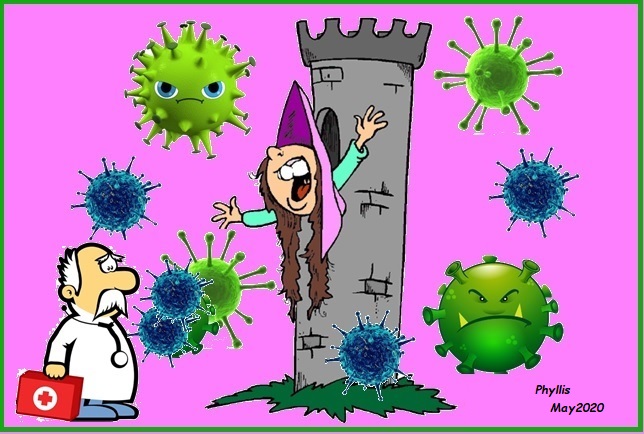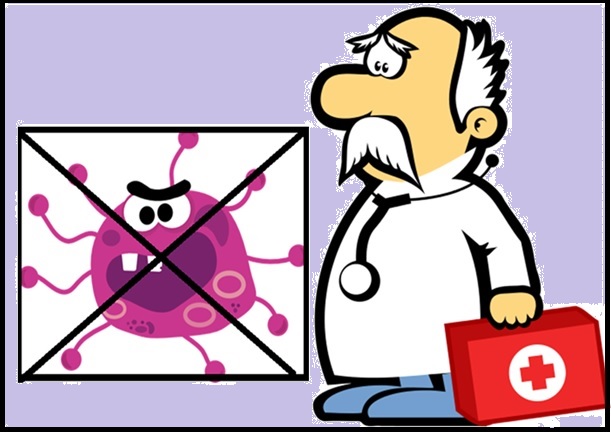 IN MEMORIAM



We note with sorrow the passing of:
Muriel Steinberg, mother of Elizabeth Steinberg
Dorothy Jacobson, mother of Judy Wertheimer

Ralph Carr, husband of Molla Carr
Albert Aroeste, brother of Elaine Sarna

May their memories be for a blessing.


If you would like to make a donation to Hadassah in anyone's memory, please send a check in any amount to:
Toby Berke, 119 Daley Blvd, Rochester, NY 14617
THE BRANCH, SEASON 2, EPISODE 1: THE CORONA CHRONICLES


As the Israeli economy reopens, uncertainty continues. Host Dina Kraft takes us back into the lives of Jews and Arabs we met in earlier episodes to see how they're faring, and what's changed about the efforts that brought them together.
Click here to listen: https://www.hadassah.org/multi-media/podcasts/branch-episodes/s02-e01-the-corona-chronicles.html

COVID - 19 UPDATES




Updates: You can find these articles at: https://www.hadassah.org/coronavirus-update.html
July 24: From Caregiver to Patient: My COVID-19 Story
July 23: 80 New Meir Shfeyah Graduates, Despite Closures and COVID-19
July 16: Israel Health Minister Tours Hadassah Hospital Ein Kerem
July 15: Israel Health Minister Edelstein says he will know if country needs lockdown within four days - The Jerusalem Post
July 14: Serious coronavirus cases reach highest level yet as hospitals fill up - Times of Israel
July 14: Hadassah Shares COVID-19 Protocol Manual With Argentinian Parliament
July 14: Hadassah and Mexican Mental Health Experts Address COVID-19 Anxiety
July 10: In 3 1/2weeks, COVID-19 death risk to rise - Times of Israel
July 10: Jerusalem Deputy Mayor released from Hadassah Hospital - The Jerusalem Post
July 10: Hadassah Director: Israel has lost control of the epidemic - Israel National News
July 10: Hadassah Pilot Program: Recovered COVID-19 patients volunteer assistance to the sick - The Jerusalem Post

July 7: Israel hospitals told to limit non-COVID-19 cases - YNet News
July 5: Closures are bad but we can prevent them from happening again - The Jerusalem Post
July 4: 13 promising treatments for COVID-19 coming out of Israel - Israel21c
July 3: Israel counters pandemic with "all hands-on deck" approach - The Media Line
July 2: Leading a COVID-19-Free Hospital–a Vision Beyond the Virus at Hadassah
July 2: Hadassah Colloquium Assesses Where We Are Headed With COVID-19
July 2: Israel losing control of the virus - The Jewish Voice
July 2: Israeli company hopes universal anti-viral vaccine will protect elderly from COVID-19 - The Media Line
July 2: Israel on the precipice of a disaster - The Jerusalem Post
July 1: Coronavirus has given us a summer of dissonance - The Jerusalem Post
And there is so much more!! Please go to this link: https://www.hadassah.org/coronavirus-update.html
CARDS FOR MANY OCCASIONS & CERTIFICATES- BUY THEM LOCALLY!!



PLEASE CONTACT THESE HADASSAH VOLUNTEERS FOR YOUR CARD & CERTIFICATE NEEDS!!!
JOYCE HEILBRONNER, COORDINATOR: 442,9584, JA85WH@AOL.COM
SUE ANN BAKER: 334-1778
CAROL YUNKER: 385- 3910
EILEEN JACHLES: 383-1753
BARBARA COHEN: 272-7396
YOUTH ALIYAH/CHILDREN AT RISK



Youth Aliyah Update

With the closing of Israel's schools due to the Covid 19 epidemic, Amos (not his real name), a student at Hadassah Neurim, has gone home. While at

home he's in constant contact with his teachers and village staff receiving instruction, assignments and support. But his home is a crowded apartment with a
dysfunctional family and that apartment has empty cupboards.
Amos's parents, at the lowest end of the employment ladder, were among the first to lose their jobs as businesses shut down. In fact, his family is in such
dire straits that village staffers had been delivering food packages to them even before the pandemic started. Once the shutdown began, they began sending
vouchers good for food and staples.
Amos is just one of hundreds of kids in Youth Aliyah Villages in this situation.
You can help these children by purchasing YOUTH ALIYAH CERTIFICATES, which are good for every occasion.

SMALL CERTIFICATES are $5 and up plus postage. LARGE CERTIFICATES are $15 and up plus postage. Contact Marlene Elkin 271-1871


ENTERTAINMENT BOOKS, JNF BLUE BOXES & TREES



Entertainment Books 2020
The Entertainment Books are still for sale with wonderful coupons for restaurants, car washes, dry cleaners, fast food places, golf courses, stores, children's places, car rentals and much more. .The price is $25. Call Marlene Elkin 271-1871
Save Around Books are $20 each; call Debby Shulman 586-6654
Jewish National Fund Blue Boxes
Sue Baker 334-1778 or sueannbaker49@yahoo.com
Jewish National Fund Trees
Merle Markus 586-9436 or mbmarkus@hotmail.com
Barbara Weber smeyers@rochester.rr.com
REMEMBER THE HADASSAH/JCC SHED WHEN YOU CLEAN THIS SUMMER & FALL!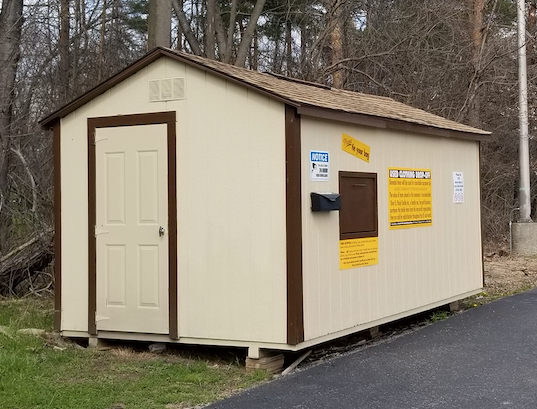 Our JCC/Hadassah shed is fully operational. During this terrible COVID-19 crisis, many of us have more time to clean out closets and basements. Please remember our shed – BUT TEXTILE ITEMS ONLY. Thank you for your help. Your donations provide funds for the JCC and Hadassah and clothing for those in need in our country and throughout the world.
A BIG THANK YOU goes out to our dedicated staff members who monthly make sure our shed is neat, items are bagged, non-textiles are removed and bags are moved to the back of the building for St. Pauly pickup: Linda Bartlett, Marilyn Rosen, Sue Ann Baker and Monika Katzel.


HADASSAH ON CALL: UNCOVERING NEW WAYS TO TREAT
KIDNEY DISEASE IN CHILDREN


Dr. Oded Volovelsky is the head of the pediatric nephrology unit at Hadassah Medical Organization. He treats a diverse population of patients from different parts of Israel and his specialties include acute kidney injury, mineral bone disease and cystic kidney disease. He is also the principal investigator of developmental biology of the kidney research lab at the Hebrew University-Hadassah School of Medicine.
A graduate of Hebrew University-Hadassah School of Medicine where he also received his PhD in Philosophy and Biomedical Science, Dr. Volovelsky was a fellow of the Cincinnati Children's Hospital Medical Center in Ohio. He's received multiple awards including the Society of Pediatric Research Fellow Research Award, the most prestigious pediatric award for fellow's research in the US.
Listen to the episode here:
https://www.hadassah.org/multi-media/podcasts/on-call-episodes/episode-33-kidney-children.html

HADASSAH POLICY STATEMENTS



Advocacy is central to Hadassah's mission—helping our members and supporters realize their potential as a dynamic force in American society. From supporting the creation of the State of Israel and selling war bonds, to championing stem cell research and women's health equity, Hadassah has a long and proud history of advocacy on issues important to women and the Jewish community. Hadassah, the Power of Women Who Advocate.
The following policy statements reflect Hadassah's most recent and active policy priorities.
You can see them here:
https://www.hadassah.org/advocate/policy-statements/

ROCHESTER HADASSAH COOKBOOK FOR SALE!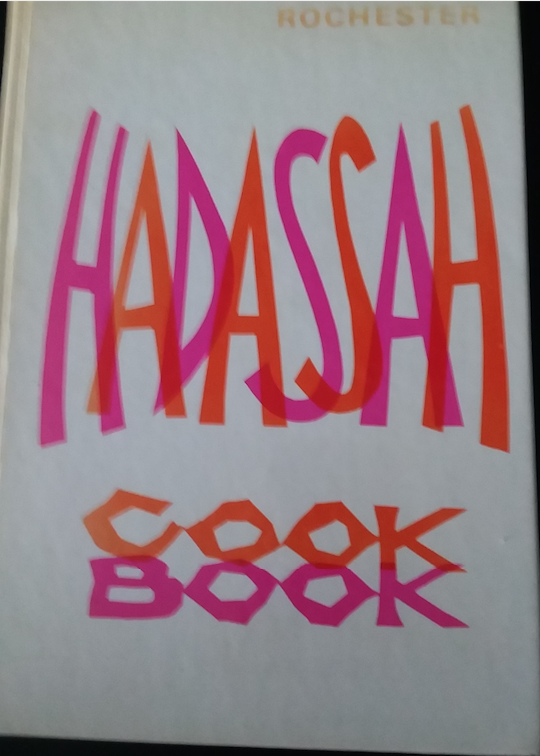 Gazpacho Recipe

1 large can whole tomatoes
1/4 cup minced green pepper
2 cucumbers, thickly sliced (washed,not peeled)
1 tablespoon wine vinegar
Place all ingredients except lime slices in a blender and blend until mixture is smooth. Chill. Serve in individual mugs over ice cubes. Garnish with lime.
Our Rochester Hadassah Cookbook has wonderful recipes for any meals you would like to make during the warm weather.
There are great recipes for soups, salads, desserts, light lunches and dinners, beverages, appetizers and anything you would like
to make. Our book is a wonderful gift for a wedding shower, new home, graduation, birthday, anniversary and any other gift
you may need.
The price is $18.00 and $22.00 to ship.
Contact Marlene Elkin 271-1871