News from HADASSAH Pacific Northwest
Dear Hadassah Members, Friends, & Supporters,
My family believes in miracles. Early immunotherapy research at Hadassah contributed to saving the life my husband, Steve. We are passionate about Hadassah.
David Ben-Gurion said, "In Israel, in order to be a realist, you must believe in miracles," (first prime minister of Israel, Interview on CBS, October 5, 1956). Hadassah is the Queen of Miracles. And, miracles happen every year and every day at Hadassah Hospitals. As we reflect on Hadassah's year, we recount our many world class breakthroughs and successes:
Amyotrophic Lateral Sclerosis (ALS): Ninety percent of ALS study patients at HMO showed improved respiration or motor function after treatment with stem cells from their own bone marrow. LEARN MORE ABOUT ALS RESEARCH ›
Multiple Sclerosis (MS): Preventing Nerve Degeneration. A world-first study at HMO treating MS patients with adult stem cells injected into the spinal cord revealed that disease progression stopped and most patients improved.LEARN MORE ABOUT MULTIPLE SCLEROSIS RESEARCH ›
Age Related Macular Degneration: Hadassah researchers halted deterioration of the retina in animal models using human embryonic stem cells. Now, AMD patients are in a groundbreaking clinical trial.LEARN MORE ABOUT AGE RELATED MACULAR DEGENERATION RESEARCH ›
FOLLOW YOUR PASSION ! DONATE TODAY; SAVE LIVES TOMORROW!
Diabetes / Non-Alcoholic Fatty Liver Disease: Hadassah researchers developed an oral insulin pill that could revolutionize diabetes treatment and is testing a drug to treat non-alcoholic fatty liver disease, which can lead to cirrhosis and liver cancer. FDA-approved clinical trials are now underway in over 20 medical centers in the US, Israel and Australia.LEARN MORE ABOUT NON-ALCOHOLIC FATTY LIVER DISEASE RESEARCH ›
Melanoma: HMO doctors created unique immunotherapy treatments for stage III and IV melanoma patients of individualized vaccines using their own tumor cells. LEARN MORE ABOUT MELANOMA RESEARCH ›
Heart Disease: Heart Disease is the number one cause of death in the United States and worldwide. The disease can manifest as blockages in veins and arteries, disrupted heart rhythms, and more.LEARN MORE ABOUT HEART DISEASE RESEARCH ›
Hadassah is the Elefant Family passion! Join us! We hope you give: support medical research, support LIFE!
From my Family to Your Family, the Elefants wish you a HEALTHY and Sweet New Year!

May we all follow our passion.
Shana Tovah,
Peg, Steve, Sharon, & Dan Elefant (Zeus & Coda, too!)
Peg Elefant, President
Hadassah Pacific Northwest Region
Barbara "BG" Goldstein Tours the Pacific Northwest Region!
BG, Deputy Director, Hadassah Israel, visited Seattle, Tacoma, & Portland September 11-15, 2016.

Below are some highlights of her tour.

TACOMA HADASSAH:




RESEARCH IN SERVICE TO HUMANITY

Diane Sigel-Steinman, Tacoma Hadassah Honoree, and Allan Steinman

Tacoma Chapter honored our treasured Diane Sigel at a beautiful dinner at the Tacoma Yacht Club. Diane's first Hadassah memories are playing under the dining room table while her mother, Iris and the other ladies planned Hadassah events. She has held every office of the Tacoma Chapter, served the Region as Treasurer and President and is now serving on the National Board. The event raised $35,500 for Hadassah.

Linda Brown

President

Hadassah Tacoma
PORTLAND HADASSAH: RESEARCH IN SERVICE TO HUMANITY

BG had a very full day in Portland, which started with an Oregon Jewish Life press interview luncheon, a meeting with the Portland Federation, a presentation at The Schnitzer Manor, and concluded with a delightful wine & dessert evening at the Hotel Deluxe chaired by Portland Chapter President, Diana Lindemann, and her team: Carolee Kawer and Leatrice Kaplan.

The Corvallis Contingent in Portland:
Amy Buccola, Joni Plotkin, BG, Peg Elefant, Sarah Tuttle
Portland Chapter President, Diana Lindemann
with sons, Joe & Michael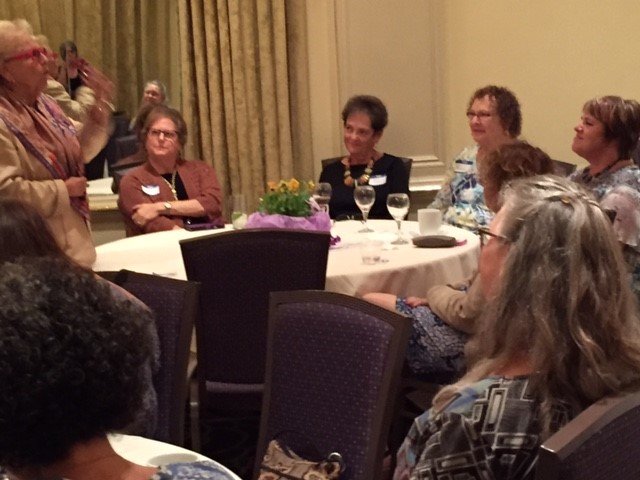 The Shalom Chapter (Vancouver) in Portland with
BG, Amy Gross (VP Fundraising), Teri Giangreco,
Diane Kahn (President), Marla Weiner (from Portland)
SEATTLE HADASSAH: HADASSAH UNCORKED

Seattle Chapter hosted BG at a lovely event at Harley Marine. Hadassah got some great press in the Seattle Federation's weekly newsletter: At the Hadassah event, I witnessed again how extraordinary this community of Jewish women is. The featured speaker, Barbara Goldstein, spoke with humor and conviction about Hadassah's history, its support for medical research and health care, and its unwavering connection to Israel. Barbara also spoke about the importance of remembrance. When memories become history, they can become distant from our lives - words in a book or images on a screen. Barbara reminded us that our memories are living testimonies of our past.

Nancy Lichter, Lisa Giangreco, Katie Edelstein,
Susie Pass, & Dganit Dror enjoy wine on the patio

Seattle Co-Chair, Fortun Azose, peruses
Hadassah Medical Research breakthroughs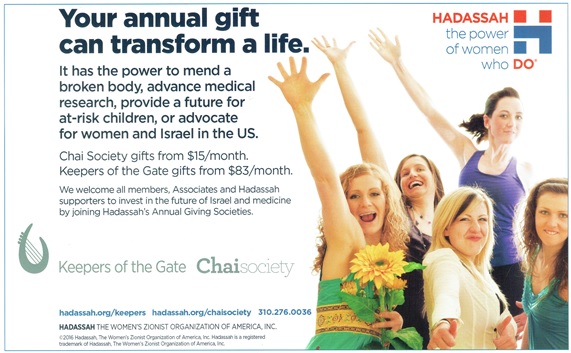 Hadassah National Convention 2016 , July 25-28: Atlanta
Bringing Home the Power of Our Dreams
Fast-paced and frenetic, the Hadassah 98th National Convention was an immersive experience, engaging 950 attendees from around the country in every aspect of Hadassah's work, celebrating the Power of Our Dreams with a fantastic lineup of outstanding speakers.
Whether you missed Convention or want to relive it, join us online for Convention highlights showcasing ongoing Hadassah efforts in the United States, Israel, and around the globe.
With videos and photo galleries you can share online, recaps, actions you can take, and more see for yourself. Then spread the word, so we can realize more of our dreams, together.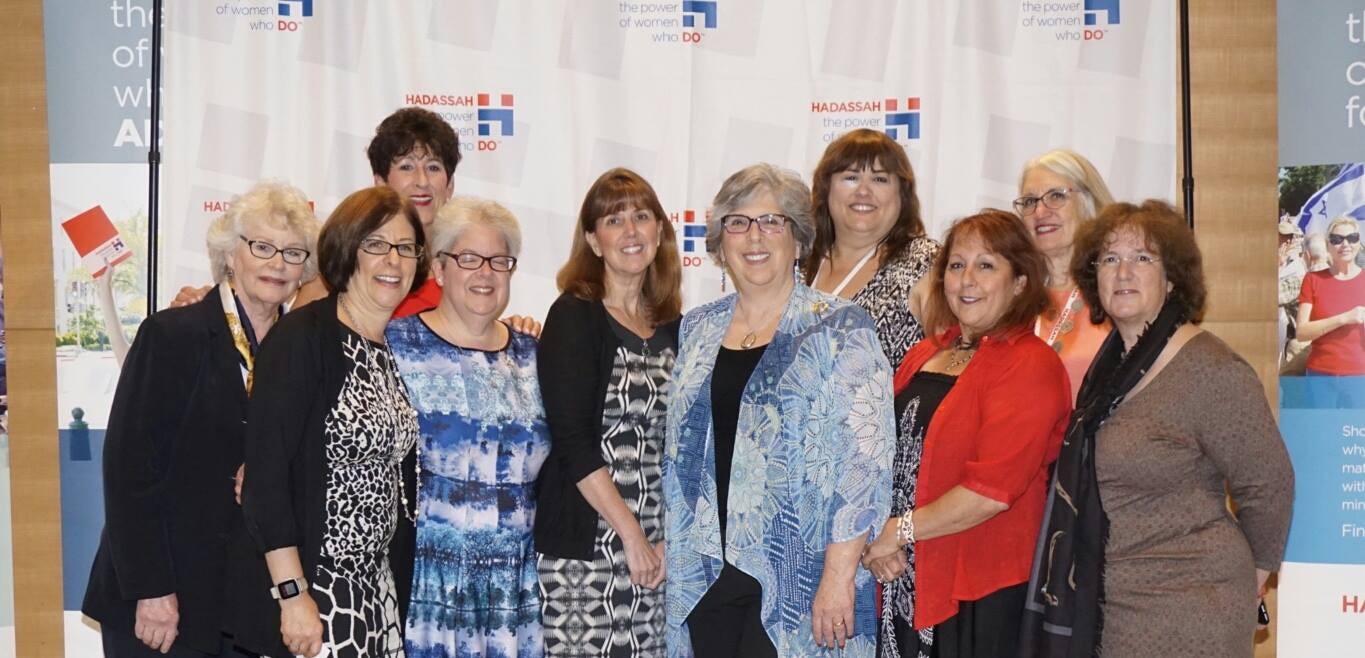 (left to right)Carolee Kawer, Susan Glicksberg, Michelle Goldberg, Lisa Sobel, Peg Elefant,
Linda Brown, Diana Lindemann, Susan Adler, Diane Sigel
Diane Siegel was the raffle winner of the Endless Beginnings research necklace. Susan Glicksberg won a Hadassah Mission land package! Congrats to both!
| | |
| --- | --- |
| | |
| 1st time delegate, Carolee Kawer | Tacoma President Linda Brown |
| with Portland President, Diana Lindemann | with 1st time delegate, Lisa Sobel |
Also at Convention we enjoyed a meaningful, powerful learning session-- the newest and latest in Hadassah's Defining Zionism. Watch all of Hadassah's fabulous Defining Zionism series now! Ready now: New Defining Zionism Video
Watch our new highlights video—a compilation of some of our exciting and diverse thought-leaders on the topic of Zionism. From Gil Troy to Susannah Heschel, they all have a different perspective on What Exactly Does Zionism Mean to Today?
Watch. Discuss. Share.
Announcing!
The Pacific Northwest Hadassah Mission Leaderships Awards
OPPORTUNITY OF A LIFETIME!
TAKE A POWER TRIP TO ISRAEL; Israel Beckons!

FREE LAND PACKAGE: 2016 or 2017 Hadassah Mission to Israel Hadassah sponsored by Ayelet Tours*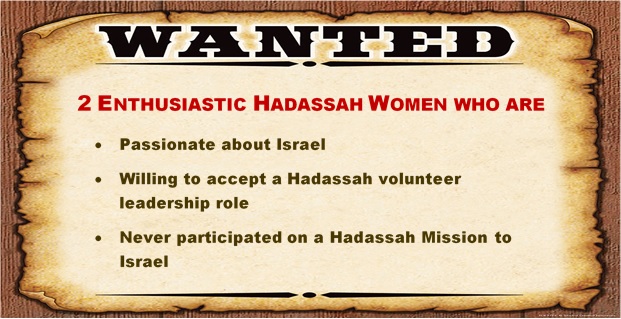 CLICK HERE to APPLY NOW ! Deadline extended to October 18th

* applies to 2016 OR 2017

Israel

Missions, land packages only. See APPLICATION for terms and conditions
A Hadassah mission is a powerful cultural, emotional, and spiritual adventure. Start packing!
Advances in Approach to Ovarian Cancer at Hadassah
Three-Prong Approach to Breast Cancer Research at Hadassah
Nurturing Nursing: The Legacy of Patricia Wahl Lapan
Collaboration Announced to Develop Hadassah Drug to Treat "Untreatable" NASH Liver Disease
Under-Medicating Children: Some of the Challenges in Pediatric Pain Management
HADASSAH ADVOCACY

Last Day to Register to Vote in Presidential Election 2016:
Gender Equity in Medical Research
Most diseases affect men and women, but because of scarcity of medical research on women, we are just beginning to learn how gender affects prevention, diagnosis, treatment, and outcomes. In both the United States and Israel, Hadassah is advocating for policy change and funding for medical research that benefits women and men equally.LEARN MORE ABOUT GENDER EQUITY IN MEDICAL RESEARCH ›
Speaking Out Against BDS
On May 31, Hadassah's United Nations Team was at the UN, attending the Ambassadors Against BDS Summit. On June 2, past Hadassah National President Marlene Post emceed an American Zionist Movement and World Zionist Organization event, "BDS: the New Antisemitism? Confronting a Global Campaign." Hadassah is a member of AZM and WZO.
New Policy Statements
Delegates to the Hadassah 98th National Convention passionately debated and unanimously passed new Hadassah Policy Statements on Zionism, United Nations Reform, LGBTQ Equality, and Caregiving.
Women Who Learn
Read about the rich cultural life that is flourishing in Israel. As the State has matured so have art, film, dance, music, and food—just to name a few.
ENDLESS BEGINNING NECKLACE

Research is the beginning to a promising end. Follow your passion! This necklace will make a lovely gift to recognize the milestones of the special woman in your life. A perfect gift for your wife, mother, daughter, granddaughter, niece or yourself.t is inscribed with the famous quote from Hadassah's founder, Henrietta Szold, "There is no ending that is not a beginning."

Click HERE to purchase your gift today!

Forward to a Friend
PACIFIC NORTHWEST
E: pnwregion@hadassah.org.
Hadassah.org | Privacy Statement | Terms & Conditions |

Unsubscribe
©2020 Hadassah. The Women's Zionist Organization of America. All Rights Reserved.
Donation Questions
(800) 928-0685
Membership Questions
(800) 664-5646
Israel Travel
(800) 237-1517
Contact Us
40 Wall Street
New York, NY 10005