Opening Meeting
Date:
Tuesday, September 8, 2020
Time:
7:00 PM - 8:30 PM
Location: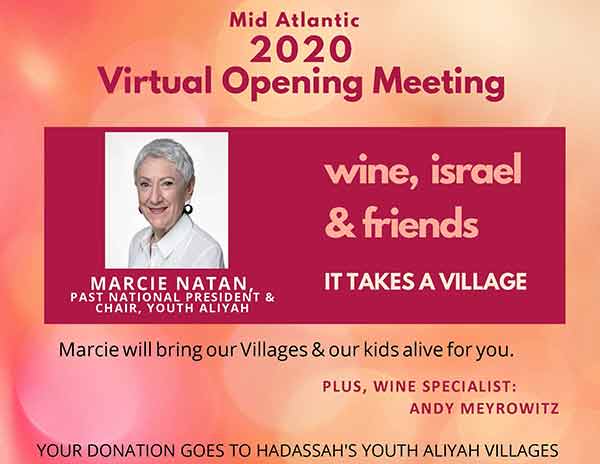 Twist open or uncork your favorite wine and join us for Hadassah's Virtual Opening Meeting. In keeping with tradition, this event marks the beginning of the open season for Hadassah.
We are proud to announce that Marcie Natan, past National President and current Youth Aliyah chair will join us as our guest speaker. She will bring the villages and children alive for you through story telling and enlighten us of the current Youth Aliyah happenings amidst the Covid-19 pandemic and what we are doing to support them.
Wine specialist, Andy Myrowitz will also join us to showcase the splendor of the wines of Israel.
Donation Questions
(800) 928-0685
Membership Questions
(800) 664-5646
Israel Travel
(800) 237-1517
Contact Us
40 Wall Street
New York, NY 10005