Drink Pink for Breast Cancer Awareness
Date:
Thursday, October 7, 2021
Time:
7:00 PM - 8:15 PM
Location: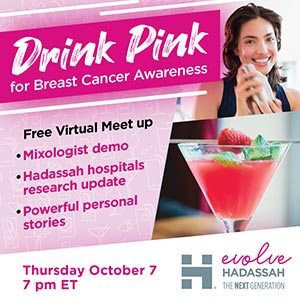 Join Evolve Hadassah: The Next Generation virtually for an evening of hope, strength and love on Thursday, October 7th at 7:00 pm EST.
Dr. Shani Paruch-Shimon, Director of Breast Oncology at Hadassah will be sharing with us an optimistic breast cancer research update.
Hear the amazing personal stories of strength from two young women and finally you will love the pink drink that we will be creating, led by Mixologist Pam Wiznitzer.
Donation Questions
(800) 928-0685
Membership Questions
(800) 664-5646
Israel Travel
(800) 237-1517
Contact Us
40 Wall Street
New York, NY 10005